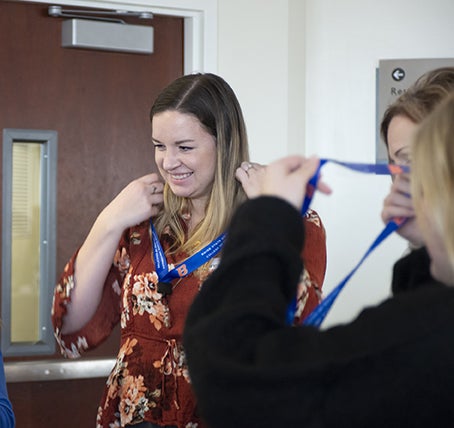 Boise State teacher candidates in their final semester of the teacher education program started spring semester 2020 by attending their professional year orientation, an instructive and collaborative session packed with information on what to expect while working as student teachers in area classrooms.
Teacher candidates recited a professional oath as educators, and received Boise State pendants and lanyards to take with them into the classroom in a ceremony marking their transition to full-time student teachers and representatives of Boise State in the community.
Professional year student teaching is a critical component of teacher preparation where soon-to-be teachers get hands-on classroom experience working with PK-12 students while receiving mentor-teacher and faculty support. In addition, student teachers will gain first-hand insight into teaching practice and hone their development through implementing and reflecting on a classroom inquiry project they designed last semester as interns.
The goal of the professional year is to prepare well-started teachers who will enter their own classrooms ready to teach after graduation.
Learn more about teacher education programs