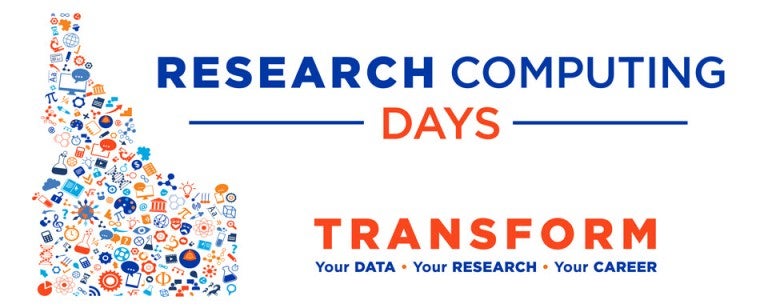 The campus community is invited to Research Computing Days from 10 a.m.-1 p.m. Feb. 16 and 17 in the Student Union Lookout Room. Find out how computing tools and resources can help to transform your research. Regardless of the type or combination of your data, you'll learn more about the tools that store, format, process and visualize your data in new ways.
This free two-day event features presentations by Rudi Eigenmann, director of the NSF Advanced Cyberinfrastructure Program, and Steven Gordon, education director of Extreme Science and Engineering Discovery Environment (XSEDE)/Ohio Supercomputer Center.
Anyone looking to know more about using advanced computing for research should attend (from graduate assistant to established researcher). With two days of presentations and workshops, Research Computing Days features:
Special guest speaker presentations from NSF and XSEDE/Ohio Supercomputer Center
Lightning talks presented by Boise State researchers about big data and computing
Resources fair to learn more about the services supporting Boise State researchers
Workshop to learn how to integrate computer science into the curriculum
Free lunch sponsored by the Office of Information Technology (OIT)
Drawing to win a free iPad
WHAT IS RESEARCH COMPUTING?
The National Science Foundation defines cyberinfrastructure, or research computing, as a collection of advanced technologies and services to support scientific inquiry. This includes:
Computing clusters as well as high performance and high throughput computing systems
Data management, data integration and data storage systems
High-speed networks
Data mining and data visualization
Collaboration and security tools
The people who design, build and support these systems
The seminar is presented by the OIT Research Computing Services, Albertsons Library, and the Division of Research and Economic Development.