Max Veltman – Nursing Pediatrics
Child Welfare System, Foster Care & Victims of Abuse
As a part of his contract with the Nampa Family Justice Center, Dr. Veltman provides pediatric nurse practitioner services to children coping with trauma. As a part of his duties he participates in Camp HOPE, a specialized summer camp where physically or sexually abused children participate in a week-long camp and engage in activities to help them deal with some of the many issues with which they struggle. Along with Dr. Goddard, he is involved with the James Family Fellowship, providing service learning opportunities for students to understand child welfare, and receive hands-on experience in helping victims of violence.
Funded:
Nampa Family Justice Center
Additional Information: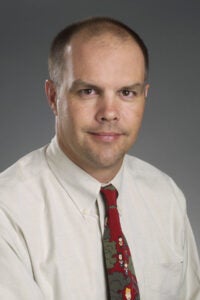 Dr. Veltman's research focuses on the health issues of children involved in the child welfare system, including victims of physical and sexual abuse, and children in the foster care system. Dr. Veltman serves on an advisory board for the YMCA Horsethief Reservoir Summer Camp, and is a member of the board of directors of the Idaho Coalition Against Sexual Abuse and Domestic Violence.
Principal Investigator:
Max Veltman, Ph.D, RN, MSN, CPNP-PC
Contact Information:
MaximilianVeltman@boisestate.edu