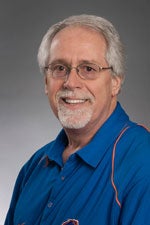 This spring Department of Respiratory Care students will evaluate and modify their professor's design of a mass casualty ventilator (MCV).  Lonny Ashworth, chair of the Department of Respiratory Care, is one of several Health Sciences faculty partnering with College of Engineering students and faculty member Michelle Sabick to develop health care devices.  The MCV is designed to provide basic ventilation of individuals involved in significant disasters or pandemics.  Two teams of engineering students have been working on the project with Ashworth and Sabick and have developed a design for the device. A prototype MCV should be completed by June 2012.
Sabick has also been collaborating with Joie Burns, MS, RT(R)(S), RDMS, RVT, faculty in the Department of Radiologic Sciences, and Seth Kuhlman, Research Associate, and Carly Gerard, Graduate Assistant, from the Center for Orthopaedic & Biomechanics Research, to develop a sonographer's transducer grip that is ergonomically friendly for sonographers.  With a mini-grant from the Office of External Funding, the study looked at the current sonographer's transducer grip pressure and wrist motion to better understand the source of scanning discomfort and wrist injuries.  Next the team designed four transducer handle prototypes and sought feedback from local sonographers about the functionality and scanning comfort they experienced when scanning with each prototype.  During the next academic year, the team will refine the transducer handle designs with the goal of developing a design that can be patented and marketed to reduce the ergonomic wrist injuries common in diagnostic medical sonography.  Abstracts have been accepted for presentation at the American Society of Biomechanics Annual Conference and the Northwest Biomechanics Symposium this summer.
Terri Soelberg, grant coordinator for the newly formed College of Health Sciences Office of Research, also enlisted Sabick to assist in presenting a workshop on medical device design on August 16.   Seven Health Sciences faculty, including Ashworth and Burns, participated in the workshop, which walked participants through a design thinking stage through the business development stage.  While many research projects were developed, the group selected the concept of a new crash cart to be the project for a business development class this fall to evaluate commercial potential. Management faculty and COHS 'idea champions,' such as Lutana Haan, Department of Respiratory Care, will partner on this interdisciplinary venture.  Keep up on Health Sciences News to follow the development of these innovative designs.