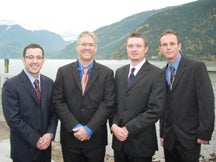 Two teams of Boise State students from the Environmental and Occupational Health program placed first and second place in the Environmental Challenge Competition at the of the Air & Waste Management Association's annual conference (Pacific Northwest International Section) in Harrison Hot Springs, British Columbia Nov 9-11.
The two teams calling themselves "Cool Breezes International," see picture at right, and "Trash to Treasure," see picture below right, earned first- and second-place honors for their technical yet cost-effective plan to provide supplemental power to a proposed wind farm that would supply electricity to the city of Vancouver, Canada. They beat out nine teams from five universities throughout the Pacific Northwest and Canada.
"Given the hard work, intensity and fun that is characteristic of this event, it is safe to say that this experience is likely the highlight of each student's undergraduate career — and one they will remember for years to come," said Dale Stephenson, professor of community and environmental health and the teams' faculty advisor. "The experience gained in addressing a real-world environmental problem and having their findings peer-reviewed by environmental professionals will go a long way toward making them successful stewards of the environment as they embark on their careers."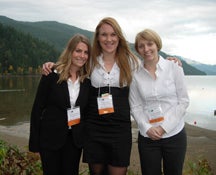 The goal of the competition was to present the teams with a mock, yet real-world, environmental problem, and for them to submit a detailed proposal outlining cost-effective solutions and orally defend their findings in front of a panel of judges.
As a part of their proposal and presentation, it was necessary that each team find ways to minimize environmental impacts and appease conflicting advocacy groups – one group demanding the use of green technology for the provision of supplemental power and the other favoring the use of fossil fuels as a means to boost the local economy (all of this in light of the fact that it was an election year with local politicians clamoring to garner votes from respective constituencies).
The Boise State teams earned monetary awards of $1,500 and $1,000. In addition, PNWIS will provide a $2,000 sponsorship for "Cool Breezes International" – the first-place team – to travel to San Antonio, Texas, in June 2012 to compete in the Air & Waste Management Association's National Environmental Challenge Competition.