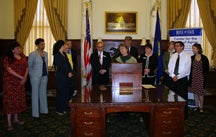 The Idaho Alzheimer's Planning Group (IAPG), a project of the Center for the Study of Aging (CSA), has been recognized for successfully writing and helping pass a resolution in which the Idaho Legislature affirms the seriousness of Alzheimer's Disease and supports the IAPG's efforts to develop a state plan to help meet the growing needs of patients, their families and caregivers.
Gov. Otter writes in his newsletter after the wrap-up of the legislative session: "I am proud that this session we were able to recognize in a Senate Concurrent Resolution that Idaho has far too many people suffering the devastating effects of Alzheimer's disease. I was proud to help with efforts to raise awareness and support the state plans that are in the process of being developed to help the 26,000 people in Idaho who suffer from this horrible disease.  It also is worth noting that families with loved ones also suffer greatly from the impact this disease has on close and extended family members. Idaho joins 23 other states that have or are working on Alzheimer's disease support plans."
The Senate Concurrent Resolution (SCR) 112, The Alzheimer's Plan resolution, was backed by AARP. To read more about the problem Idaho faces, the resolution and AARP's stance, please read AARP's press release.To learn more about CSA or the IAPG, please visit https://www.boisestate.edu/csa/.