by Leah Sherwood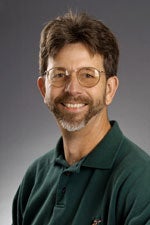 Jeff Anderson, associate professor and director of clinical education in the Department of Respiratory Care, held a mechanical ventilation workshop for a group of medical students from the Pacific Northwest University of Health Sciences. The workshop was on July 23rd at the Health Sciences Riverside building on the Boise State University campus.
Anderson reviewed pulmonary pathophysiology and ventilator settings to deal with abnormalities and discussed ventilation for patients with chronic obstructive pulmonary disease and acute respiratory distress syndrome. The workshop also included discussion about theories of mechanical ventilation in different disease states.
Students had the opportunity to experiment with test lungs, furthering their understanding regarding the differences between various modes of ventilation, and the effects of different ventilator settings on pressure, volume and flow. Students were able to breathe using the ventilator, which allowed them to understand what it may feel like to be a patient on a ventilator.
"The students are always impressed with how strange it feels to breathe on a ventilator, particularly when the settings we choose do not produce a feeling of comfort," said Anderson. "They now also understand some of the reasons why patients often require sedation while on life support."
Anderson noted that Kim Carley, who is the Boise regional coordinator for Pacific Northwest University of Health Sciences, attended the workshop and expressed interest in continuing to develop and offer similar educational events in the future.