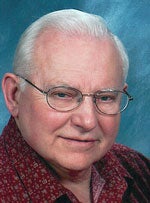 Duane McCrorie, Sr., a former assistant professor in the Department of Radiologic Sciences, passed away on November 20. During his tenure, McCrorie was instrumental in the development and growth of the radiography clinical education for the department.
McCrorie worked as a radiology technologist in North Dakota, Montana, and Washington before pursuing bachelor's and master's degrees in health administration at Whitworth College. He began at Boise State after completing his Master's Degree in 1985. After retiring in 2002, McCrorie continued to serve Boise State as an adjunct faculty until 2011.
McCrorie also became active in the Idaho Society of Radiologic Technologists, serving the organization as president twice, treasurer twice, historian for many years and co-editor of the society's publication, "Scattered Radiation." In 2007, he was made a lifetime member of the society.
"Duane's dedication to the field of radiography was demonstrated in his passion for teaching and his service in the Idaho Society of Radiologic Technologists," said Leslie Kendrick, chair of the Department of Radiologic Sciences. "We are grateful for Duane's part in the success the department and students experience today. He will be missed."
A funeral mass will be celebrated by Rev. Benjamin Uhlenkott at 11:00 am on Saturday, November 30 at Risen Christ Catholic Community, 11511 Lake Hazel Rd, Boise ID. Remembrances may be left for the family at www.AccentFuneral.com.