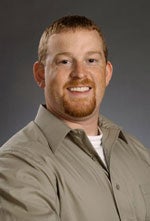 The Health Professions Residential College (HPRC) is a living-learning community for students in their first year of college that combines coursework with real-world experiences and life choices. As Faculty-in-Residence, TJ Wing, assistant professor for the Department of Respiratory Care, and his family will live in an apartment in a Boise State dorm.
The mission of the Living-Learning Community program is to integrate academic and personal life in a residential setting to develop interdisciplinary knowledge, foster deep learning and maximize student success. Faculty members who live in the residence halls facilitate academic and social integration for and with the members of the community. Previous HPRC Faculty-in-Residence have organized games of wheelchair basketball as an exercise in disability; taken the students to a touring exhibit of "Bodies Revealed," a national touring exhibit of the human body and its various organs; and spent time enjoying Idaho outdoors recreation to promote team building, physical activity and healthy lifestyles.
"The Health Professions Residential College can have a profound impact on students, faculty and their family members who participate in the programming." states Tim Dunnagan, dean of the College of Health Sciences. "I am especially impressed by the additional support and the sense of belonging that is generated through the program for its students."
Wing will teach a course associated with with the HPRC: developing learning outcomes, a syllabus, creative opportunities for reflection, and assessment strategies of the experience. He will also build relationships with residents that encourage academic success and achievement of their educational goals. Wing will plan a variety of activities outside of the classroom that promote community building and learning. In addition, he will also contribute in the overall development of the Living-Learning Community program and faculty team, integrating and sharing insights and experiences with the College of Health Sciences and the university
"I am honored to be chosen as the next Faculty-in-Residence in the HPRC; I look forward to working with students to develop a sense of family and excitement within our learning community." said Wing. "Further, I hope to work with each resident to establish a partnership with a medical professional currently working in his/her concentration area of interest."
Wing will succeed his colleague Lutana Haan, also an assistant professor in the Department of Respiratory Care, who has served as the HPRC Faculty-in-Residence for the past two academic years. Wing will assume the position for academic year 2014-2015. Learn more about the HPRC.