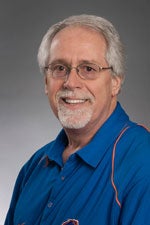 Lonny Ashworth, professor in Respiratory Care at Boise State University, is helping further Japanese medical professionals' understanding of the field of respiratory care.
Toshihiko Koga had a dream to establish respiratory care education in Japan. To achieve this dream, he created the International Exchange Visit Programme for Respiratory Care Professionals (IEVPRCP) in 1996. The purposes of the IEVPRCP were to bring respiratory care practitioners and physicians to Japan to present workshops, and to encourage and support Japanese health care professionals to become Registered Respiratory Therapists through respiratory care programs in the US, and then return to Japan to help grow respiratory care education.
Before Koga passed away, he selected Kazunao Watanabe to lead the IEVPRCP. Since 2001, Watanabe has provided the leadership and support necessary to grow the educational activities of the IEVPRCP. The 14th Annual Respiratory Care Seminar in Shonan, created and sponsored by Watanabe, was held this July in Fujisawa, Japan. This program is officially recognized by the AARC and the International Council for Respiratory Care.
This summer marks the tenth anniversary of Koga's passing. Under the continued leadership, guidance and support of Watanabe, the IEVPRCP has steadily grown. Ashworth has presented a total of eighteen workshops to physicians and co-medical personnel as part of the IEVPRCP this summer. These workshops were presented to approximately 500 people. The topic of each workshop was adult mechanical ventilation. The workshops were of various lengths, ranging from three to 16 hours, depending on the purpose of the workshop and the audience.
This summer's workshops included lectures and hands-on practice and addressed the following topics:
Concepts and Modes of Ventilation
Initial Ventilator Settings
Monitoring of the Patient / Ventilator System
Use of Graphic Analysis During Mechanical Ventilation
Mechanical Ventilation of the Patient with COPD
Mechanical Ventilation of the Patient with ARDS
Pressure Control Ventilation
Withdrawal of Ventilatory Support
Trouble-shooting the Patient / Ventilator System
Workshops were presented at each of the following locations:
Japanese Nursing Association (Tokyo)
Kameda Medical Center (Kamogawa)
KKR Takamatsu Hospital (Takamatsu)
Kobe City Medical Center (Kobe)
Nippon Koukan Hospital (Kawasaki)
Nippon Medical University Musashikosugi Hospital (Kawasaki)
Osaka University Hospital (Osaka)
Respiratory Care Seminar in Shonan (Fujisawa)
St. Luke's International Hospital (Tokyo)
Teine Keijinkai Hospital (Sapporo)
Tokyo Bay Urayasu Ichikawa Medical Center (Urayasu)
The workshops presented as part of the IEVPRCP have made a difference in patient care in Japan by changing the medical practice of many physicians and co-medical staff. They have increased the knowledge base of countless health care professionals, facilitated the increased responsibility of co-medical staff, facilitated the establishment and use of protocols in Japan and helped many physicians and co-medical professionals become more experienced educators.
Ashworth, Watanabe and his team are already making plans for additional IEVPRCP workshops this January to facilitate the continued, steady growth of respiratory care education in Japan.