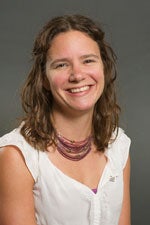 Nicole O'Reilly brings knowledge and passion about aiding the health of families as a new assistant professor in Boise State's School of Social Work.
O'Reilly graduated with her bachelor of social work from Shippensburg University in Shippensburg, Pennsylvania and her master of science in social work from the University of Tennessee, Knoxville. She completed her doctorate at University of Maryland, Baltimore in 2015 with her dissertation, "Food Environment and Family Food Insecurity: Store Type and Availability with the Likelihood of Family Food Insecurity in Baltimore City."
Her primary research interests lie in the health and nutrition of families, specifically examining the relationship between the food environment, food security, and health outcomes.
"Dr. O'Reilly will be a model for our bachelor's students as one of the few faculty members who earned a BSW," said Randy Magen, director of the School of Social Work. "In addition, Nicole brings both innovative methods and an original area of research to Boise State."
While at University of Maryland, Baltimore, O'Reilly conducted research focused on the association between physical activity, food environment and health related behaviors among low-income adolescent girls as a graduate research assistant for the university's School of Medicine. O'Reilly also worked on research related to involuntary mental health treatment and Title IV-E training efficacy as a graduate research assistant in the School of Social Work.
From 2009-2010, O'Reilly was a temporary full-time faculty member for her alma mater Shippensburg University's social work program. She then spent five years as an adjunct faculty member for the university's bachelor of social work foundation courses. In addition to her experience as a graduate research and teaching assistant at University of Maryland, Baltimore, O'Reilly was a pre-doctoral teaching fellow for the university's Maternal Child and Health Leadership Development Program.
O'Reilly also brings a variety of social work practice experience with her to Boise State. In Lancaster, Pennsylvania, she was a neurofeedback specialist and program administrator for the Institute for Children and Families. She was also a part-time mobile therapist and behavioral specialist consultant for the Youth Advocate Program. In addition, O'Reilly served as a victim assistance officer and consultant for the Cumberland County District Attorney and Juvenile Probation Office in Carlisle, Pennsylvania for three years.