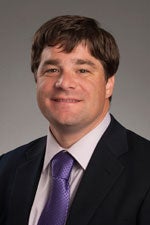 Nathaniel Williams ('02 Bachelor of Arts in Social Science, '04 Master of Social Work) returned to campus this fall as a tenure-track assistant professor for the School of Social Work.
"When the opportunity to join the faculty at Boise State arose, I jumped at the chance," said Williams. "The School of Social Work at Boise State engenders exactly the type of innovative culture, high standards of excellence, and entrepreneurial spirit that make social work education and research exciting."
His research areas of expertise are in children's mental health services, implementation science, organizational interventions, and organizational culture and climate. These will add a focus on research and knowledge that improves the outcomes of children's mental health and social service systems through the adoption and integration of high-yield, low-cost evidence-based practices and organizational strategies and innovations that support accountability and service effectiveness.
Williams completed his doctorate in social work, with a minor in statistics, in 2015 at the University of Tennessee, Knoxville. He received a National Institute of Mental Health (NIMH), individual pre-doctoral fellowship for $100,000 to study the impact of organizational implementation strategies on EBT use for three years.
In 2013, Williams received the QUEST Scholar Award from the University of Tennessee, Knoxville's Office of Research.
During his last two years in Tennessee, Williams worked in the university's College of Social Work as a research assistant professor for the Children's Mental Health Services Research Center.
Williams was the principal investigator from 2007-2011 on "Evaluating Youth Outcomes and Provider Fidelity in Psychosocial Rehabilitation for Youth" for CenterPointe, Inc., a clinic for child and family psychotherapy in Nampa, Idaho. He also served as a mental health clinician for CenterPointe from 2004 to 2011 and in 2006, he became the program director of its child psychosocial rehabilitation program.
While he was in Knoxville, Tennessee, Williams served as a research assistant on two NIMH grants and two William T. Grant Foundation grants. From 2012-2015, he worked with primary investigator Kimberly Hoagwood on a NIMH grant and sub-contract with New York University Medical Center, titled "Improving Family-to-Family Services in Children's Mental Health.
From 2011-2015, Williams worked with primary investigator Charles Glisson on a NIMH grant on using organizational implementation strategy in children's mental health. Glisson was also the primary investigator on the two William T. Grant Foundation grants with whom Williams worked. These projects were titled "Testing the ARC Organizational Intervention Strategy for Community and School-Based Youth Service Programs" and "Establishing National Child Welfare Agency Norms for the Organizational Social Context (OSC) Measurement System."
Williams also served on the Task Force on Children's Mental Health for the United States Psychiatric Rehabilitation Association, based in McLean, Virginia. He currently serves as a referee for five academic journals: Implementation Science, Child Abuse and Neglect, Child Maltreatment, Children and Youth Services Review, and Social Work in Mental Health.
This fall, Williams is teaching two undergraduate courses for Boise State's School of Social Work, Generalist Social Work Practice II: Families and Groups; and Foundations of Social Work Practice.