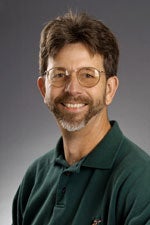 Jeff Anderson, associate professor and director of clinical education in the Department of Respiratory Care, presented a two hour lecture on June 4th to nurses at Saint Alphonsus who are enrolled in a course titled Essentials of Critical Care Orientation (ECCO).  
The ECCO course is for new intensive care unit nurses and covers a variety of respiratory care related topics including patient assessment, oxygen therapy, arterial blood gas and chest radiograph interpretation, and an introduction to mechanical ventilation.
Anderson also presented a one hour lecture on the interpretation of chest radiographs and computerized tomography (CT) scans for nurses on the medical response and code blue teams at Saint Alphonsus on Sept. 22. Medical response teams are made up primarily of registered nurses and respiratory therapists who are called to evaluate patients in distress, or who have had a sudden decrease in function. They may intervene and correct the situation, or transfer the patient to an area of the hospital in which they can receive higher level care such as an intensive care unit.