January is often a time when we think about resolutions for the new year – often to improve our health. Yet health and well-being is important to integrate into our lives every day. The College of Health Sciences, University Health Services and the College of Business and Economics are leading BroncoFit, a campus-wide initiative to encourage Boise State students and employees to engage in all aspects of health and well-being throughout the year.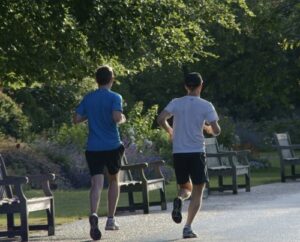 "Small changes can have a big difference on our lives and the whole healthcare system," said Ron Pfeiffer, associate dean for the College of Health Sciences. "There's no effective blanket approach to health. Individuals need to find what works for them. Health is a lifetime skill."
"BroncoFit will encourage people to think of the various aspects of health," said Pfeiffer. "Everyone can become educated health consumers and be inspired by the BroncoFit activities and initiative. The initiative will generate energy and awareness about the relationship among health, lifestyle, and healthcare."
The initiative began with strategic planning in University Health Services during the winter and spring of 2015. Health Services staff envisioned that they could help Boise State create America's healthiest campus community. Dean Tim Dunnagan and Pfeiffer fully embraced their vision and soon the university administration was also on board to make this vision a reality. The resulting initiative has been dubbed BroncoFit and was announced to the campus community during the "State of the University Address" on August 19, 2015.
Leaders in the BroncoFit initiative will address environment, culture, policy, educational and programmatic aspects that touch the health and well-being of students and employees on campus. While the goal of BroncoFit is to create a culture that provides and supports healthy choices and overall well-being, the initiative will use two different approaches to engage these two campus populations. For example, the employee wellness program is being enhanced in order to engage and educate employees about the various aspects of health and well-being: physical, emotional, social, professional/intellectual, financial, environmental and spiritual. For students, a Foundational Studies course is being developed to help them explore these dimensions.
The idea is to plant the seeds for life-long health. By learning through wellness programs and courses, interacting with the Health Services staff, and engaging with BroncoFit, employees and students will have a road map for their own life-long health. They will understand how minor decisions can affect multiple aspects of their lives and how making a small healthy choice can lead to a lasting healthy lifestyle.
While the programs and initiative are starting with campus populations, anyone can learn from BroncoFit.
"It's like a dandelion effect," added Michelle Ihmels, director of Wellness Services for University Health Services. "The seeds spread with the wind and grow new dandelions miles away from the initial plant. We want to empower students and employees to do the same and influence mindsets even after they leave campus."