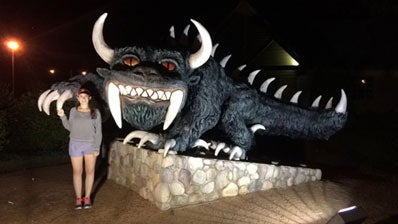 Lauren Haggerty, Environmental and Occupational Health major, was one of only twenty students nationwide to be accepted for a Junior Commissioned Officer Student Training and Extern Program (JRCOSTEP). She completed the internship program with the Rhinelander District Office Indian Health Services in Rhinelander, Wisconsin, this summer.
JRCOSTEP is a program offered by the US Public Health Service (USPHS) Commissioned Corps where students can serve their country while completing or continuing their education. JRCOSTEP participants work in the various operating divisions that make up the agencies within the US Department of Health and Human Services as well as other federal agencies such as the Environmental Protection Agency (EPA), Federal Bureau of Prisons, and National Park Service. Through the internship program, students work at hospitals, federal prisons, and other agencies that provide public health related services.
The application process for the internship was lengthy. After the initial application submission, Haggerty was required to submit four recommendations and pass medical clearance and a background check.
"I was extremely nervous to be so far from the only place I had ever called home, but I knew it was also going to be really good for me," said Haggerty.
On her first internship day, Haggerty traveled to a reservation that had recently been involved with the production and consumption of synthetic drugs. Haggerty and her team visited and took samples from homes where drugs had been manufactured and used the samples to assess what type of remediation would be needed for the houses to once again be habitable. Haggerty was able to assist personnel from EPA in the gathering of samples to test the air quality of the homes.
During the rest of her summer internship, Haggerty completed routine food surveys, safety inspections, water sampling, and powwow temporary vendor surveys. These surveys allowed Haggerty to improve her food safety knowledge and memorize the Food and Drug Administration food code. Toward the end of her internship, Haggerty was allowed to inspect a powwow on her own.
"Internships allow you to use what you have learned in the classroom and apply it to a purpose, said Haggerty. "For Boise State students specifically, I think it is important that students represent Boise State and continue to support the notion that we are a great university and we produce well-rounded professionals who are ready for their field of work."
One of the biggest takeaways Haggerty experienced stemmed from working with the Native American tribes: three in Wisconsin and three in southwest Michigan.
"Working with different tribes allowed me to meet so many wonderful people and throughout the summer I got to see the importance of building and maintaining relationships with these tribes," said Haggerty. "I have appreciated the cultural growth this internship has given me and the new perspectives I've gained while working with Indian Health Services."
JRCOSTEP positions are only available to students in accredited Environmental and Occupational Health programs such as the one at Boise State. Lauren was one of 20 students selected from across all 29 accredited programs in the nation.
"The US Public Health Service hires environmental health officers from students that have participated in the JRCOSTEP program, therefore it provides a potential career path for the student," explained Tom Turco, lecturer for the School of Allied Health Sciences Department of Community and Environmental Health. "The variety of field work conducted while participating in a JRCOSTEP is a valuable tie between the classroom and the real world."