In an effort to contribute in meaningful ways to their profession, a number of faculty members in the School of Allied Health Sciences Department of Radiologic Sciences have recently taken on leadership positions in a variety of state and national medical imaging professional organizations.
Andrea Long, clinical assistant professor, is currently serving on two committees within the Idaho Society of Radiologic Technologists (ISRT) this year. ISRT is a membership society for medical professionals who work to promote the quality of patient care in the State of Idaho. Long is participating on the Nominating Committee as well as the Spring Conference Committee for ISRT. In her roles, Long is working to identify and schedule speakers as well as general planning for the annual ISRT conference which will be held in Boise this spring.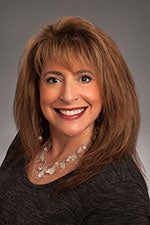 Erica Wight, clinical assistant professor, has recently completed her training and will serve as a site visitor for The Joint Review Committee on Education in Radiologic Technology (JRCERT). The JRCERT is an organization that strives to promote "excellence in education and elevates the quality and safety of patient care through the accreditation of educational programs in radiography, radiation therapy, magnetic resonance, and medical dosimetry." In this position, Wight will play an integral role in maintaining adherence to high standards for educational institutions. Wight will travel as a team member to conduct site visits to institutions nationwide.
Joie Burns, associate professor and director of the Diagnostic Medical Sonography Program, has been elected to a position on the Finance Committee for the Society of Diagnostic Sonographers (SDMS). SDMS is a society dedicated to promoting and educating over 28,000 of its members about the science of diagnostic medical sonography. As a member of this committee, Burns will review periodic financial reports and recommend the proposed annual budget and SDMS financial policies to the SDMS Board of Directors.
Burns has also agreed to represent the SDMS on two American Institute of Ultrasound in Medicine practice parameter task forces. These task forces, Practice Parameter Development for the Use of Ultrasound in First Trimester (11-14 weeks) Anatomic Evaluation, and Practice Parameter Development for the Use of Ultrasound in the Detailed Second Trimester Obstetric Exam will define examination requirements, providing guidance to physicians and sonographers worldwide. Burns has already started providing her services and knowledge in a two-year term for SDMS following their Annual Conference in Dallas Texas this previous October.