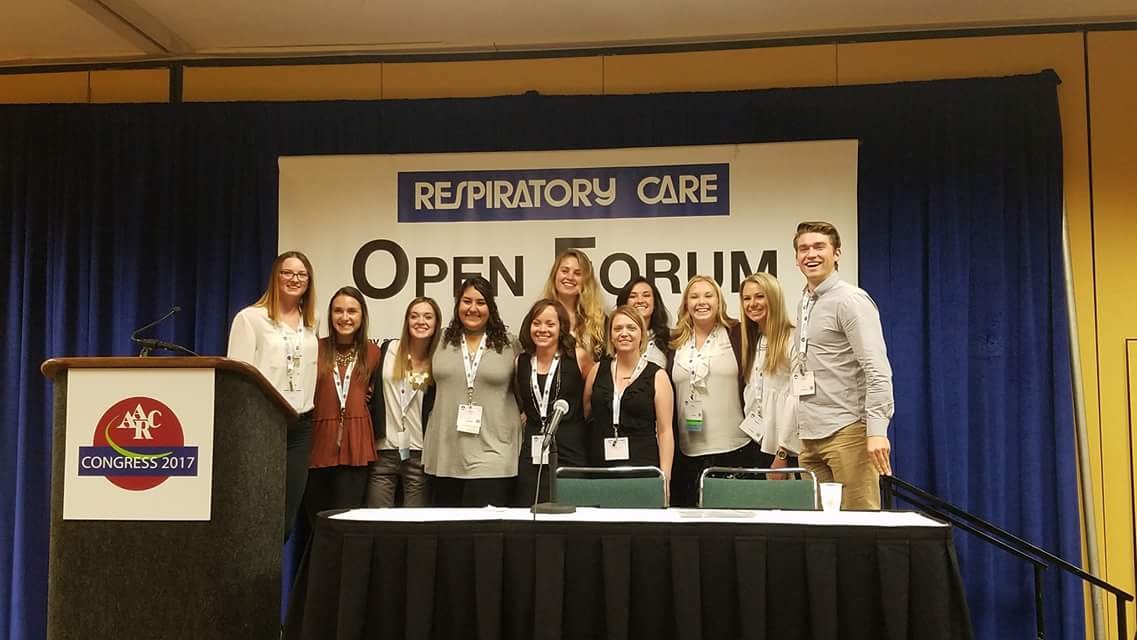 The School of Allied Health Sciences Department of Respiratory Care students and faculty recently traveled to the American Association for Respiratory Care (AARC) Congress 2017 in Indianapolis, Indiana on October 4-7 to present research. Boise State University was well represented at the conference with four student research presentations and two faculty presentations.
Lutana Haan, associate professor and chair for the School of Allied Health Sciences Department of Respiratory Care, presented "Why Are Circadian Rhythms Important for RCPs?" which analyzed the body's biological clock to further understand patients' responses to circadian timing.
Jeff Anderson, associate professor and director of Clinical Education for the School of Allied Health Sciences Department of Respiratory Care, presented "Systematic Interpretation of Adult ICU Radiographs and CTs" which outlined a comprehensive method to evaluate adult ICU chest radiographs and CT scans. Anderson also distinguished anatomic structures on plane films and CT scans, and common critical care pathology on plane films and accompanying CTs. Additionally, Anderson analyzed CT formats for body windows, lung windows, axial, sagittal and coronal views.
Of the four research posters presented, Samantha Davis, clinical assistant professor, Lonny Ashworth, director of RRT to the bachelor's degree completion program and professor and Camille Stover, graduate assistant (all of the School of Allied Health Sciences Department of Respiratory Care), accompanied Respiratory Care students, Tetsuya Hasegawa, Gerald Hoskins and Kendra Clingerman to present their poster, "The Comparison of Spontaneous Ventilator Modes during Exercise." The students performed research by evaluating four different ways to ventilate patients to give them the opportunity to breathe on their own while on a breathing machine. The research was conducted by having 20 patients walk on a treadmill and then analyzing patient's breathing capabilities on a ranking. This allowed students to determine the mode of ventilation that was most comfortable for patients during exercise.
Ashworth also assisted students, Carly Petrie, Bridget Lawrence and Gerald Hoskins on the research presentation, "Evaluation of the Accuracy of Delivered Tidal Volumes in Critical Ventilators at Various Settings." The research involved measuring the accuracy of the amount of air provided to the lungs on seven different mechanical ventilators at a set volume of air for a patient. The students administered ventilators to mechanical test lungs to determine if the exact volume of air was being delivered to the lungs. Their results showed that each ventilator had a specific setting that was more accurate in cases that is was dependent on volume set, flow set, and the waveform of the flow.
Students, Kendra Clingerman, MiSol Salinas, Charlene Harper presented their research alongside Jody Lester, associate professor of the School of Allied Health Sciences Department of Respiratory Care on "The Response of Four Home CPAP Machines to 1-minute and 15-minute Power Failures: A Bench Study." The presentation outlined research conducted on the condition Obstructive Sleep Apnea, which is when a person goes through stages during sleep in which they cannot breathe because their airway is closed periodically. Patients can then use a CPAP machine to provide air pressure during sleep that keeps the airway open. The students organized research on four different types of machines and their responses to a simulated power outage. The results concluded that there are minimal fail-safe mechanisms on CPAP machines in the event of power failure. Additionally, respiratory Care Practitioners, patients who use these, and their families should be attentive to these machines in the event of a power outage.
Students, Amanda Shaffer, Gerald Hoskins, Amelia Kraus, Alexander Vargas and Courtney Woodworth also presented research on, "Examining the Inspiratory and Expiratory Tidal Volumes of the Drager Evita V500" alongside Ashworth.