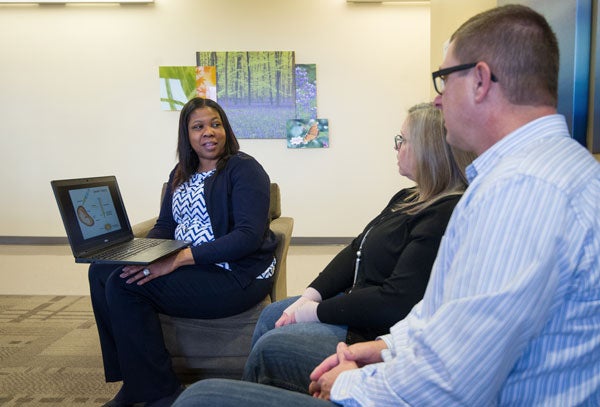 Boise State University will help fill a gap in healthcare with its latest graduate program – the first fully online Master of Science in Genetic Counseling. The program recently received accreditation from the Accreditation Council for Genetic Counseling. Currently, genetic counseling programs exist at approximately 40 schools in the US and Canada.
The Boise State program will provide advanced training in medical genetics and counseling to prepare its graduates to become certified and licensed genetic counselors. These healthcare professionals will guide and support patients seeking more information about how inherited diseases and conditions might affect them or their families, how to interpret genetic test results, and how to manage genetic conditions.
"Genetic counseling is a profession that is dramatically growing. Since 2006, the profession of genetic counseling has seen an 88 percent growth with a workforce supply that has not kept up with demand," said Jennifer Eichmeyer, clinical assistant professor and director of the Boise State genetic counseling program. "Nationally there are four jobs for every graduate with anticipated future demands growing at an increasing rate. There are even greater needs in the Pacific Northwest where currently the closest genetic counseling program is at the University of Utah. This has a trickle down effect of making it much harder to recruit genetic counselors in the area."
"Idaho has seen the number of unique job openings double since 2012, but recently these newly created jobs have remained unfilled for long periods with an average of 11 months from posting to offer, and some jobs are not filled for as long as 23 months. Similar patterns are happening in the surrounding states in the region." said Eichmeyer. "Patients suffer as a result."
"Boise State's program is built upon the foundational components of traditional face-to-face genetic counseling curriculum in an online learning platform that encompasses a regular and substantive interactive learning environment," stated Eichmeyer. "The students have fieldwork opportunities in a five state region to give them a variety of community and patient experiences. Clinical rotations are customized individually which allows for student input as well as opportunity to explore clinical rotation options that best fit the student's needs."
"The new Boise State genetic counseling graduate program is extremely innovative and the only program of its kind," said  Bob Wood, director of the School of Allied Health Sciences, which houses the genetic counseling program. "By having remote access to the didactic coursework, students are free to pursue their choice of clinical experiences from a diverse selection of institutions. Boise State is paving the way toward making an education in genetic counseling more accessible and affordable."
"Our program will create advocates, translators, and experts in the field of genetics and genomics. In addition, capstone projects develop research skills to give graduates an ability to contribute meaningfully to the genetic counseling community. The program contains curriculum that covers professional issues on  interprofessional education, learning to engage in a culturally, economically and diverse community, and the business aspect of healthcare, giving students the skills to be leaders and entrepreneurs," said Eichmeyer.
"Boise State is leading the way in cutting edge health science educational programs," said Tim Dunnagan, dean of the College of Health Sciences. "We listened to our community partners when they told us that they were having a hard time recruiting genetic counselors. We saw a way that we could help and we created an innovative method of delivering genetic counseling education to the region."
"Jennifer Eichmeyer and her colleagues are pioneers who are opening the doors for industry and human capital to support the needs of an evolving community," added Wood. "The creation of this program is truly outstanding for our college, university, the state of Idaho and the surrounding region."
Boise State is now accepting applications for the Genetic Counseling graduate program's first cohort of students. Learn more about the program and how to apply.