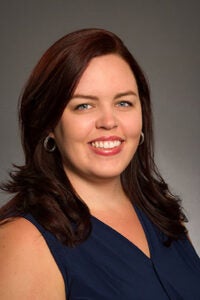 Samantha Davis, clinical assistant professor for the Department of Respiratory Care, recently became a Certified Healthcare Simulation Educator (CHSE). The certification is a credentialing program offered by the Society for Simulation in Healthcare. Although several faculty members from the College of Health Sciences Simulation Center have earned this credential, Davis is the first person outside of the School of Nursing to do so.
Davis became involved with the Simulation Center by developing and facilitating several interprofessional education simulations with Respiratory Care students on a weekly basis. Davis earned a graduate certificate in Healthcare Simulation in the summer of 2018 from Boise State.  
Benefits of certification in healthcare simulation education adds tremendous value to the individual, their organization and the community by:
Improving healthcare simulation education through the identification of best practices;

Strengthening patient safety efforts through support of simulation modalities;

Providing external validation of individual educator knowledge and skills;

Strengthening organizational, community, and learner confidence in the quality of education;

Fostering a feedback loop between education and practice;

Encouraging performance improvement and knowledge expansion of the individual educator.
Certification recognizes one's commitment to continued professional development and lifelong learning. It provides international recognition and meets the needs of employers, practitioners, and the public by identifying educators with specialized knowledge and skills in healthcare simulation education.
"Simulation prepares students to work together interprofessionally and to develop their skills in a low-risk environment," said Davis. "This type of hands-on learning translates into practice as fewer medical errors, improved communication, and enhanced team dynamics. Earning the CHSE credential validates my commitment to this type of pedagogy. It says, 'Yes, I believe in the power of simulation to change (and save) lives and I will advocate for its use at every opportunity possible."
The College of Health Sciences Simulation Center is a Society for Simulation in Healthcare accredited state-of-the-art facility that gives learners the opportunity to participate in designed learning activities in a safe, controlled environment. The center facilitates experiential learning and research opportunities for learners and faculty using the best practices in simulation education. It promotes the need for collaboration, communication and teamwork resulting in improved care, enhanced safety, and reduction of human error.