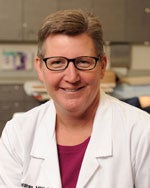 Janet Willhaus, assistant professor for the School of Nursing, recently became a Certified Healthcare Simulation Operations Specialist (CHSOS) in addition to being a Certified Healthcare Simulation Educator (CHSE).

In order to be eligible to receive a CHSOS certification, individuals must: participate in healthcare simulation in an operations role; have focused simulation expertise about learners in undergraduate, graduate, allied health, or healthcare practitioners; have a bachelor's degree or equivalent experience; and have two years of experience in a healthcare simulation operations role. Successful certification involves completing an online application, submitting three references, and passing a standardized national exam.

"The Operations Specialists are as varied and unique as the centers who employ them," said H. Michael Young, chair of the CHSOS subcommittee. "Some have titles that include Simulation Technicians, Simulation Technology Specialists, and Simulation IT Specialists. Regardless of the title, the growing field of simulation operations is the result of the increasing demands for skills, knowledge and abilities to meet the operational needs of busy simulation centers and labs. The CHSOS communicates to current and future employers that they have the best that this field is offering to them."

With this CHSOS certification, Willhaus will receive formal professional as well as international recognition of her specialized knowledge, skills, abilities, and accomplishments in simulation operations. It also confirms her commitment to continued professional development and lifelong learning.
The College of Health Sciences Simulation Center is a Society for Simulation in Healthcare accredited state-of-the-art facility that gives learners the opportunity to participate in designed learning activities in a safe, controlled environment. The center facilitates experiential learning and research opportunities for learners and faculty using the best practices in simulation education. It promotes the need for collaboration, communication and teamwork resulting in improved care, enhanced safety, and reduction of human error.