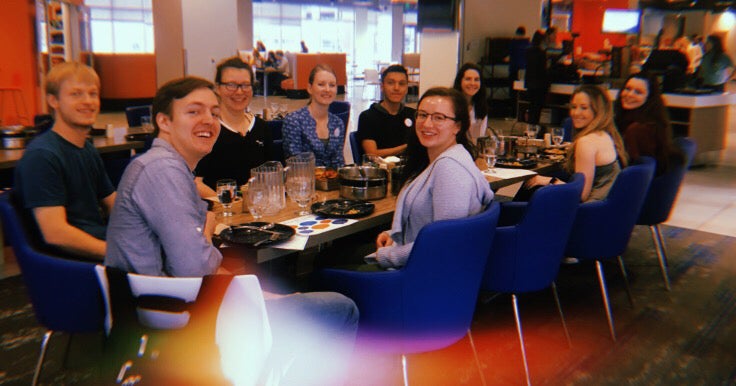 The Office of BroncoFit has partnered with University Dining Services to implement BroncoFamily Table, a weekly event to help combat food insecurity on campus and generate positive changes in students' social, mental, and physical health and wellness.
The office of BroncoFit leads the campus wide initiative to create America's healthiest learning environment by encouraging Boise State students, faculty and staff to engage in all aspects of health and well-being. BroncoFamily Table was created to give students an opportunity to form friendships and eat a healthy meal.
BroncoFamily Table occurs Wednesday nights in the South Fork Marketplace dining hall from 5:30 – 6:45 pm. The first 20 students to arrive are offered a "family style" meal and the opportunity to engage with other students, regardless of whether or not they have a meal plan.
"Our family style dining, is more than a meal," said Lacey Crawford, BroncoFit peer educator. "It's about building relationships with students from all different backgrounds, gathered together to share experiences, make connections and eat together. Our goal each week is to slow down for an hour, focus on being present with the people at our table, and fuel our bodies with a nutritious, free meal!"
BroncoFit staff found the event necessary for students' health and wellness as studies have shown that many Boise State students report feeling lonely, experiencing overwhelming anxiety, and feeling so depressed they found it difficult to function. Generally over 50 percent of university students are not "eating competent", which means students are not being positive, comfortable, and flexible with eating or getting enough to eat of enjoyable, nourishing food.
A pilot study showed that by combining communal, balanced meals with peer conversation at BroncoFamily Table, loneliness, depression and anxiety  decreased and eating competence increased for participants. Attending students received a balanced meal, the opportunity to grow positive attitudes about eating and time to relax and communicate with fellow students, all of which improve students' social, mental and physical health and wellness.
"BroncoFamily Table is a way for students to connect food with not just their physical health, but also their social and emotional wellbeing," said MarLee Harris, campus dietitian. "This event allows students to see food in a new way; an avenue to make health and wellness changes in their lives, as well as develop long lasting relationships with other students."
"This event gives students something to look forward to during the week and reduces stress associated with finding their next meal," said Emily Anderson, BroncoFit peer educator. "Personally, being able to eat and connect with different students on campus every week and witness the positive outcomes the event provides is one of the many reasons why I love being a Peer Educator."
Learn more about the BroncoFit initiative, peer educators and BroncoFamily Table.