An Aerospace and Operational Physiologist (AOP) has many very difficult and crucial tasks in the United States Navy. AOP's are equipped with training and knowledge to train aircrew to handle everything they may experience in the sky such as extreme gravitational forces, spatial disorientation, and hypoxia. Along with preparing Airmen, these physiologists monitor and explore the fatigue, stress, and other boundaries that the human body endures as an Airman.
Chris Mecham, a Master of Kinesiology alumni who graduated in May 2016, is sharing his perspective on courses in the master's program and how they've helped him prepare for life outside of education as a hopeful Aerospace Physiologist. Mecham is currently finishing his second year of training as an Aerospace Physiologist for the United States Navy. In preparing him for this position, Mecham felt as if the Master of Kinesiology program provided the experience he needed to be successful in his future endeavors.
"The Hyperbaric Physiology course was one of the most helpful courses in preparing me for AOP," said Mecham. "It was a great foundation that correlated directly with the physiology of flight; specifically in relation to the gas laws, baroreceptors in the neck, and decompression sickness."
The Hyperbaric Physiology course is designed to deepen a student's knowledge of human anatomy and physiology, exercise physiology, physics, and biology as students learn how the human body adapts, and performs in the high pressure, hyperbaric underwater environment. The course additionally explores other labs and exercises such as testing the human dive reflex, postural effects on blood pressure, and the effects of exercise on air consumption.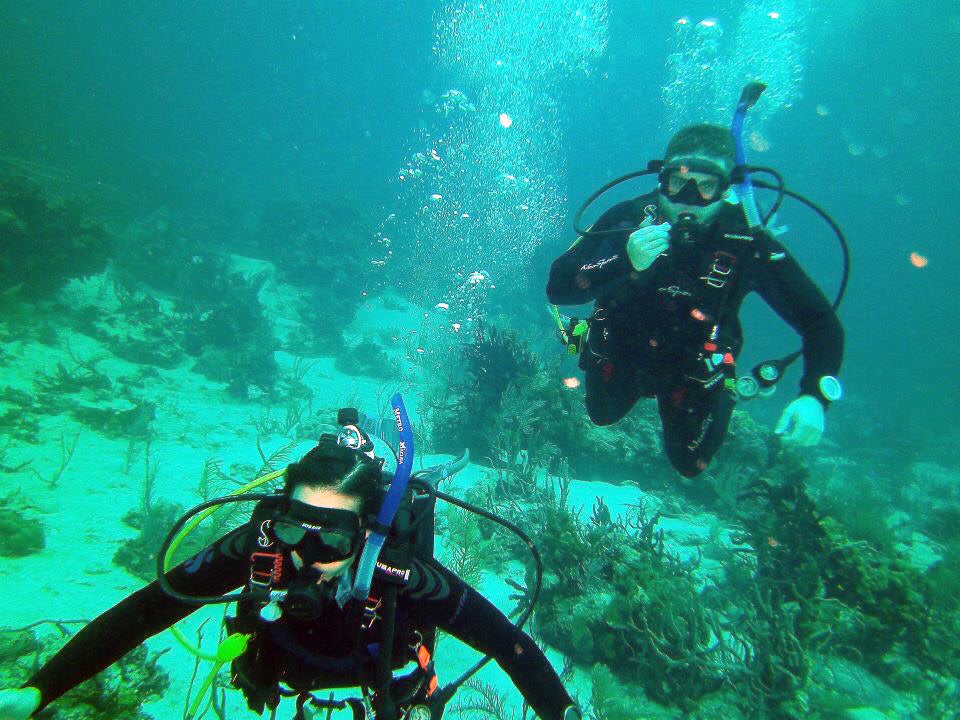 Students in the course are able to earn their open water scuba certification from the Professional Association of Diving Instructors (PADI), and then embark on a capstone voyage at the end of the term. In previous years, students have traveled to Roatan, Honduras, the Bahamas, and to Cozumel, Mexico to experience what they've learned first hand. Not only do students learn to dive on these trips, but they also engage in other learning activities such as cracking an egg 60 feet below the surface to see if it will keep its shape, or opening a soda can at 80 feet below the surface to see if the contents will come out.
The Hyperbaric Physiology course is only offered in even calendar years and only during the Fall semester. The next course will be open to students in the Fall of 2020.
Mecham also praised the Sports Nutrition and Exercise Physiology Lab courses of the program as he believes jet pilots are elite athletes who need to have the best nutrition and exercises possible in order to perform properly.
"One of the big issues that we see with pilots is neck and back pain," said Mecham. "With a physical therapy background, I am making a big emphasis on teaching different stretches/stabilization exercises to help out pilots who are experiencing this problem."  
"I am very fortunate to have been a part of the Master of Kinesiology program and I feel as if it was actually the perfect blend of information that helped me get into AOP. I have Shawn Simonson, professor for the Department of Kinesiology, to thank for all of these amazing opportunities that I get to experience throughout my career."  
Students who might be interested in AOP are invited to visit The Society of U.S. Naval Aerospace and Operational Physiologists website.
Learn more about the Master in Kinesiology Program.