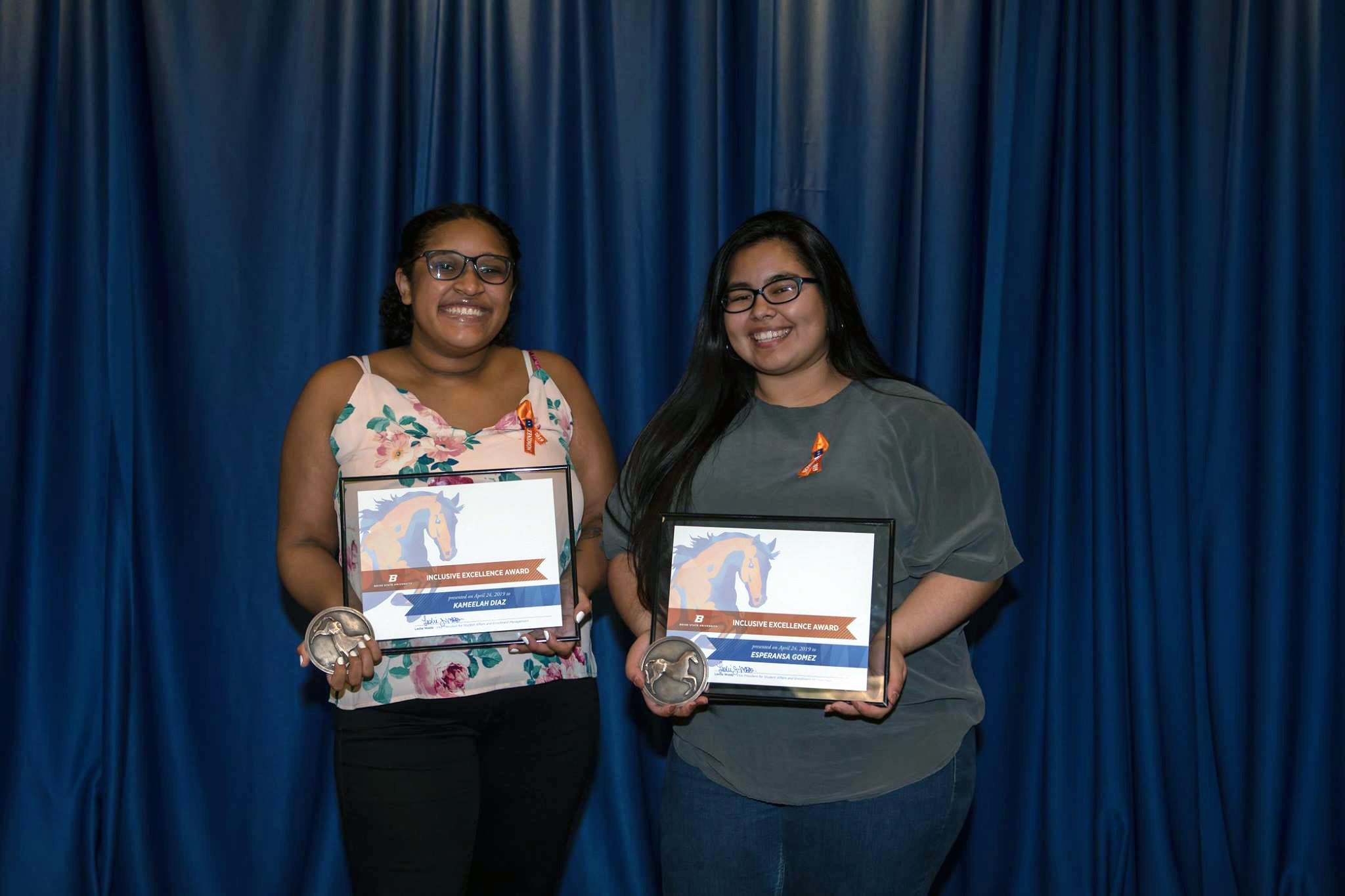 Three students from the College of Health Sciences received awards at the annual Campus Awards Ceremony on April 24 hosted by the Boise State Division of Student Affairs and Enrollment Management. This blue carpet event recognizes students, faculty, staff, and student organizations for outstanding achievement, service, and campus engagement.
Esperansa Gomez, a School of Social Work student, and Kameelah Diaz, a pre-social work student, both received the Inclusive Excellence Award at the ceremony. This award recognizes individuals who are action-oriented, equity-minded and committed to creating a campus environment that reflects inclusive excellence at Boise State. The recipient of this award is someone who seeks a personal cultivation of intercultural awareness and understanding of underrepresented populations, while calling to attention issues of social justice and inclusion.
"Esperansa has always impressed me time and time again with her willingness to take on difficult and painful situations with professionalism and grace," said Robin Allen, associate professor for the School of Social Work. "She is very deserving of this award."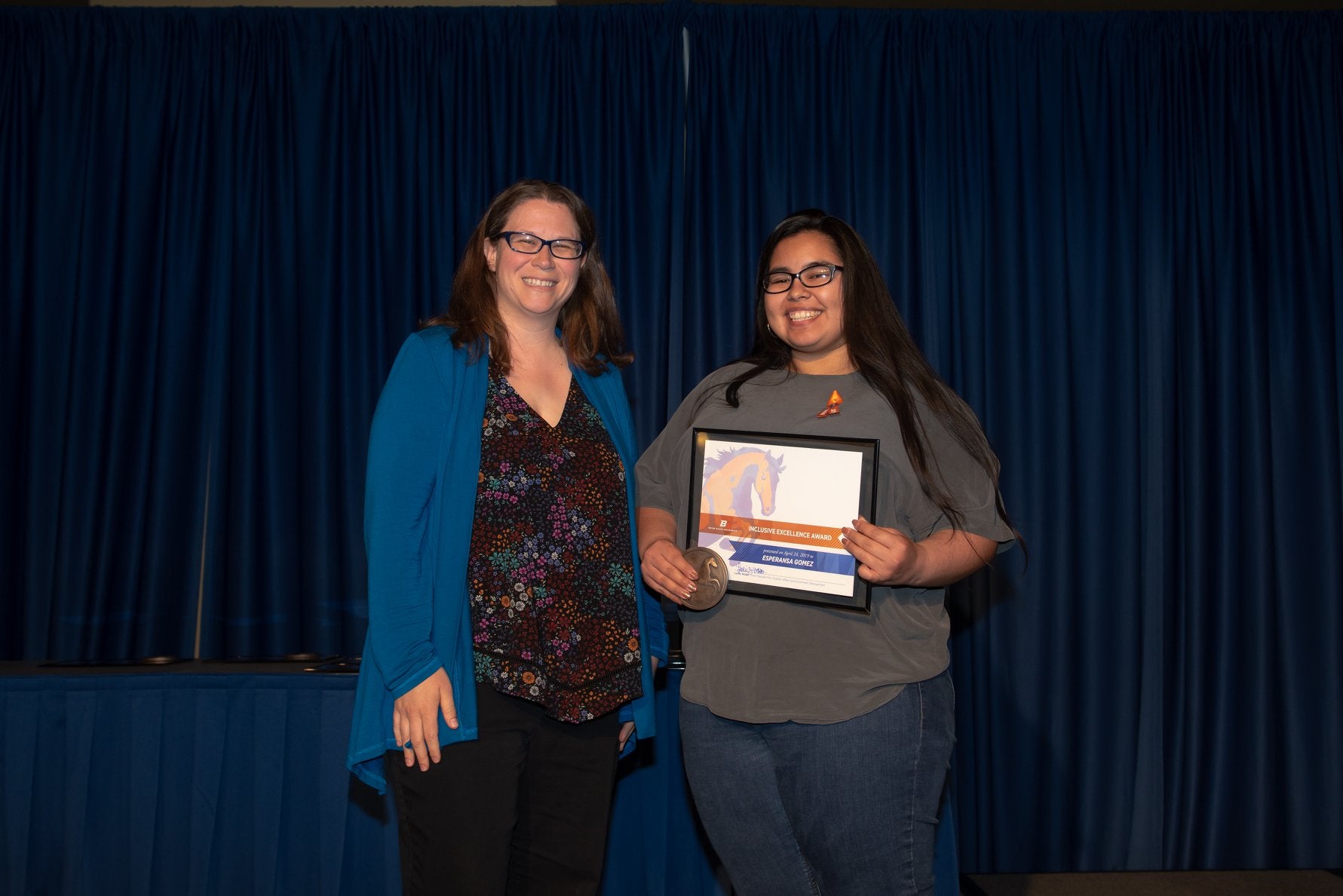 Gomez was chosen for this award as she often advocates on behalf of underrepresented groups to promote inclusion across campus. As vice president of Associated Students of Boise State University, she is able to use student experiences as well as her own experiences, to start conversations about issues that many people do not realize are issues at all. With her deep knowledge of how power and privilege shape our understanding of culture and society, she is quick to offer a perspective not usually heard when talking about a given issue.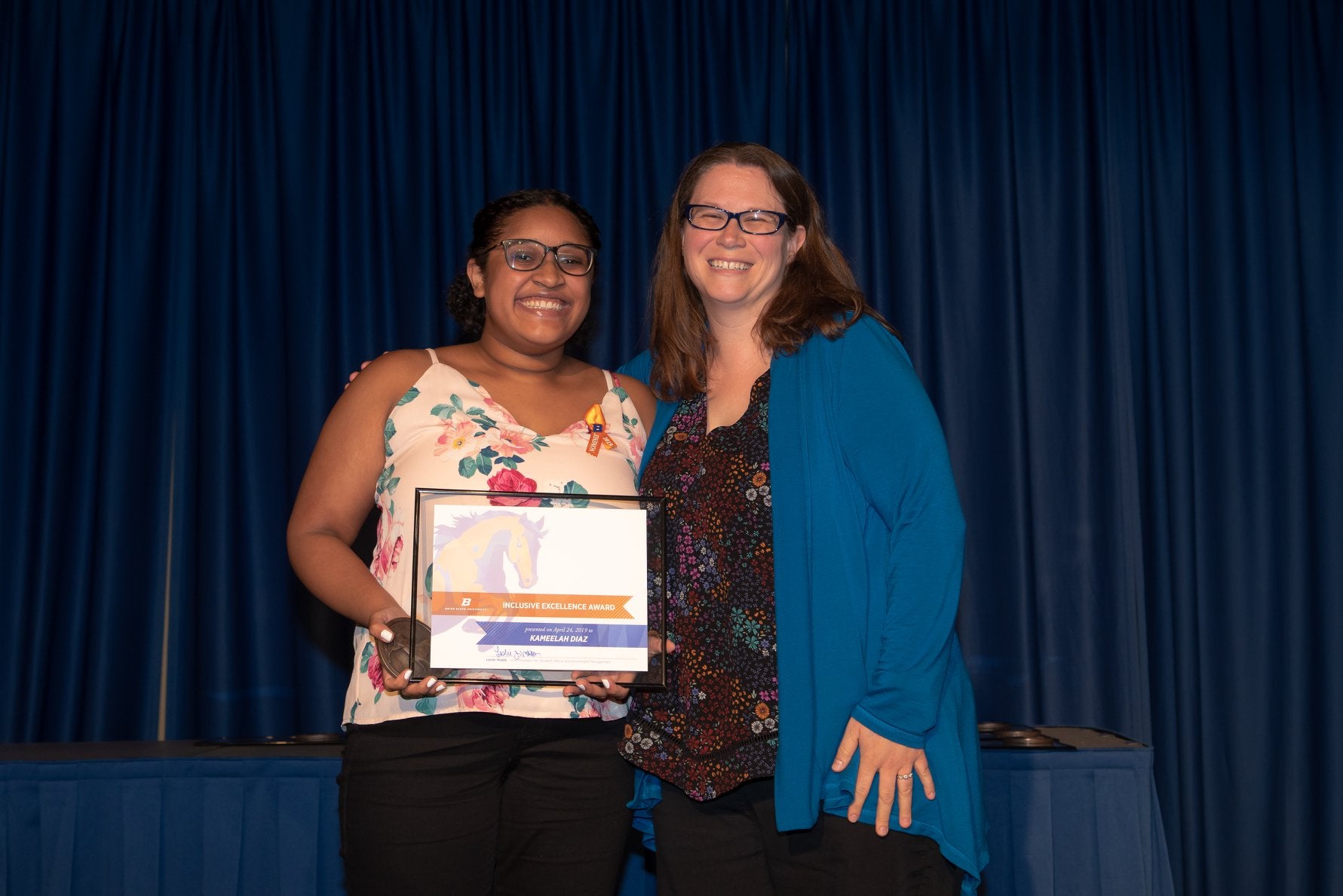 Diaz was chosen as the second recipient of this award as she makes it a goal to educate campus community about race and identifying privilege. As a peer educator for the Gender Equity Center on Campus, she is continually learning about bystander intervention, healthy relationships, and their relation to gender and racial justice. She recently created a panel titled "Black Broncos Matter" where black students shared their experiences on campus and talked about how to create a more welcoming campus community.
"Kameelah is an amazing asset to our team and our campus community," said Csea Leonard, program coordinator for the Gender Equity Center. "One way Kameelah shows her commitment to our community is through her programming efforts and how she interacts with students across campus. I have seen Kameelah connect with incoming first year students of color with a goal of helping them feel welcomed and to educate them about departments and student organizations at Boise State. She is incredibly friendly and has a passion for educating our community. Boise State is a better place because Kameelah is here."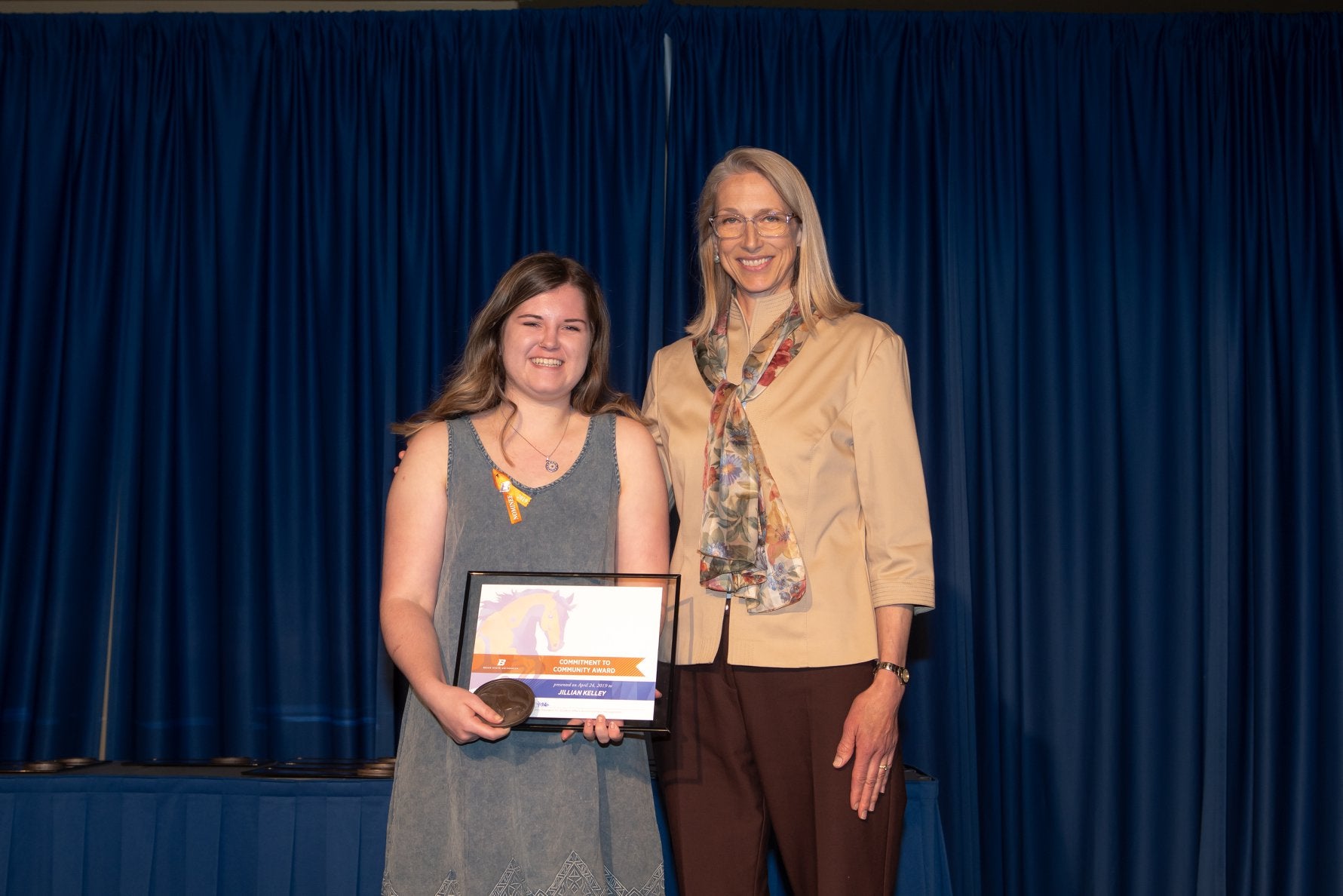 Jillian Kelley, a pre-social work student, won the Commitment to Community Award at the ceremony. This award recognizes students who inspire action in one another to serve and bring about positive change together. Kelley received this award as she has dedicated her time and efforts to serving the community and those who are less privileged. Her main focus is on ensuring that sexual assault is reported and handled on the Boise State campus.
Kelley has also been involved with many service projects surrounding healthy relationships. With the help of two other students and the Women's and Children's Alliance, she created a panel focusing on sexual assault on campus, how it can be reported and what the existing process looks like for victims of the crime. She additionally took on the role of healthy relationships peer educator at the Gender Equity Center, and began working with often underprivileged children at the Boys and Girls Club of Boise to gain experience in social work.
"Jillian has played a key role in facilitating educational events on consent, bystander intervention, and sexual assault for the campus community," said Kim Camacho, violence prevention and support coordinator for the Gender Equity Center. "She has demonstrated a passion for facilitating difficult but necessary conversations about these topics through events such as a film screening, a stand-up comedy special that explores sexual assault from a survivor's perspective, and a self-care centered event for those who have experienced trauma. Jillian has been a valuable asset to Boise State in fostering healthy relationships and empowering campus members to intervene when they notice something harmful or unsafe."
View the list of other Campus Award winners.