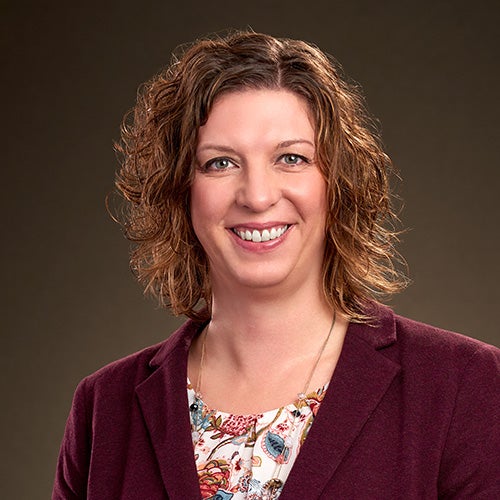 Boise State alumna Jaime Aanensen's career in public health began with a connection she made with Caile Spear, a professor in Boise State's Department of Community and Environmental Health 17 years ago.
"She inspired me to get into the field of health promotion when I was an undergraduate," Aaenensen said. "Now we're colleagues and friends."
Aanensen completed dual undergraduate degrees from Boise State in 2001 in sports medicine and health promotion (now offered as a bachelor's in public health). She went on to work for the Idaho Department of Health and Welfare promoting statewide initiatives in fitness and nutrition, but "I have always wanted to work, and impact communities, at the local level," Aanensen said.
To advance her career, Aanensen returned to Boise State for the Master of Health Sciences program for its hands-on training, community-based projects and applied research.
"[As a student] I was working on a lot of the projects that are tied to my work now," she said.
After graduating in 2006, she went on to manage a statewide health program at Idaho Department of Health and Welfare, followed by seven years at Central District Health in Boise. There she oversaw dozens of programs and partnerships as a health policy and program manager.
In August, Aanensen's impact on community health expanded again as she accepted a position implementing programming for a six-county area at Southwest District Health in Caldwell. Under her supervision as division administrator of environmental and community health are essential services including land development, public water systems, food safety, childcare health and safety, communicable disease control and numerous others.
"I'm a systems thinker," Aanensen said, making her well suited to work with stakeholders and community partners towards high level – and high impact – programs. "I see the big picture and through the connectedness, look for opportunities to solve complex public health issues."
Recently, Aanensen helped form the Western Idaho Community Health Collaborative – a new working group that serves a 10-county area in which 49 percent of Idaho's population resides. The working group follows a collective impact model, bringing together key partners to share planning and pool resources. Their aim is to work "upstream," tackling public health issues like housing, transportation, food security and ultimately preventing people from needing to end up in the healthcare system.
Aanensen doesn't allow herself to get overwhelmed by issues like housing affordability and the opioid epidemic, even though "they just keep coming, and they keep getting more and more complicated." Instead, she takes the long view.
"I know that this work is going to be my career, and that of the people coming up behind me," Aanensen said. "My focus now is making sure our work is impactful and sustainable."
She also finds purpose in mentoring interns to develop the next generation of public health professionals – many of whom are Boise State undergraduates in public health that she connects with through her former mentor, Caile Spear.
"It's so exciting to see them flourish in their lives and their jobs, and I love being a part of that. I seek out interns, and we have changed some of the structure of our positions to allow for entry-level folks to get some experience."
For students interested in a career in public health, Aanensen offers advice. "Try a few things, do a job shadow, interview people. The options in this field are boundless. You will spend a lot of time in the workplace – it really helps if you feel passionate about your job."
-By Lizzy Miskell