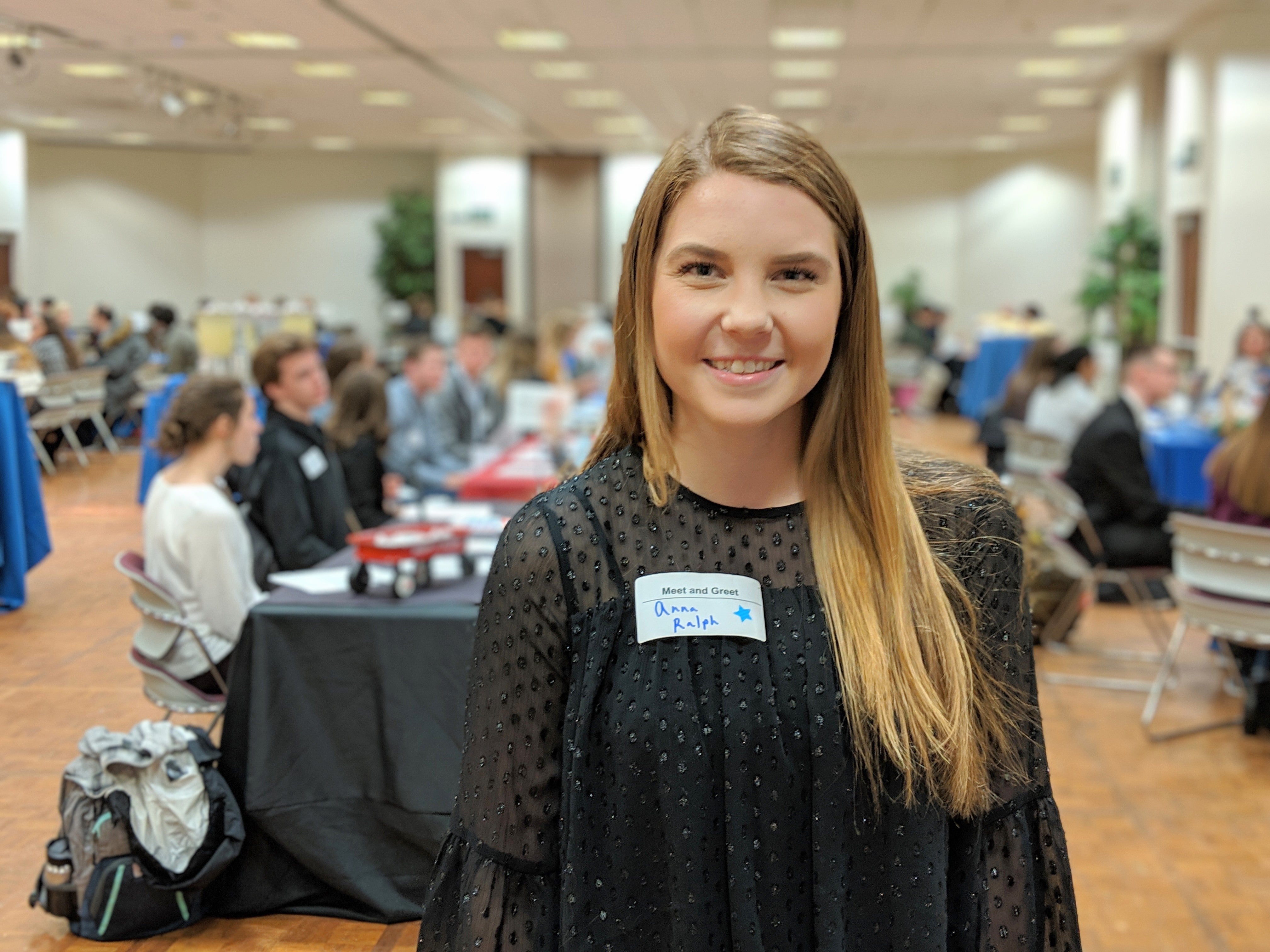 Ask Caile Spear, professor for Community and Environmental Health, about her semi-annual Meet and Greet event which facilitates student networking with 30+ local community partners, and she'll tell you the secret ingredient is Public Health student, Anna Ralph. "Anna is a rockstar," says Spear. "This event wouldn't be what it is without her."
As a student employee funded through the work study program in Community and Environmental Health, Ralph organizes their largest event held every semester. "When I accepted the position I assumed I would be scanning papers and answering phones or something," she said. Instead, Ralph communicates and coordinates all logistics for the event, building relationships with agencies and nonprofits across the Treasure Valley. She also works with campus partners like Event Services, Career Services and communications professionals to organize and promote the event. Ralph is also responsible for collecting and analyzing event feedback from both students and participating agencies.
The Meet and Greet, which is open to all Broncos, introduces current students to community partner agencies, with particular emphasis on the field of public health. Community agencies include organizations like American Lung Association and AmeriCorps, as well as health systems and regional medical centers, including St. Luke's and Saint Alphonsus.
The event is designed to give students the opportunity to network in a casual 'speed date' setting. "There is no better feeling than when I hear how the Meet and Greet events have connected my peers with mutually meaningful and impactful opportunities," Ralph said.
For Ralph, the job is excellent preparation for the work she intends to pursue in community outreach and program coordination when she graduates this spring. In her spare time, she's also a member of Eta Sigma Gamma, where she finds community in the Health Education Honorary, and also interns as a program development intern for the YMCA. It's no wonder she was just awarded the Health Education and Promotion scholarship for her commitment to Public Health. It's all part of her general approach to being an active participant in her community. "Indulge any opportunity to say 'YES'!" Ralph says. "Public Health often operates on the idea of identifying a problem within a community and then collaborating for a solution…[in this field] there is a space for everyone and anyone at our table."
Be sure to register for the upcoming Meet and Greet event – March 16th from 3:00 – 5:00 p.m. in the Student Union Building.