Community, Creativity, and Coding
The Onramp Program
The Onramp Program is an innovative approach to engaging Idaho students with technology and with their community. We support educators by helping integrate creative projects and coding into the curriculum and by providing opportunities for fun, meaningful projects in classrooms, libraries, and after-school programs.
The Onramp Program is a unique partnership between three Idaho organizations (Boise State, CWI, and IDLA) and the Apple Community Education Initiative.
Boise State's Onramp Program activities are supported through a collaboration between the Division of Extended Studies and the College of Innovation and Design.
Who We Support
Underserved and underrepresented students in qualifying schools
Clubs, camps, and after school programs in libraries, schools, and community organizations who provide access and opportunities to support learners
Teams of educators who want to build integrated programs for students
What We Do
Travel to your site with equipment and devices
Present a wide range of STEAM activities and facilitate creativity and coding projects for learners of all ages and abilities
Collaborate with educators to develop student-centered programs and lead professional development workshops.
K-12 Classroom Presentations and Mobile Lab Projects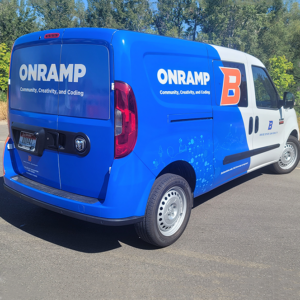 Our Mobile Lab program brings iPads, Spheros, and other equipment to your school or classroom for guided coding and creativity experiences that support your curriculum. Learners can explore coding, video production, drawing, animation, app prototyping, and more!
Currently, this program is available for visits within an hour drive from Boise. If you are interested in having the Onramp Program's Mobile Lab visit your classroom or school, please fill out this interest survey.
Professional Development Workshops for Educators
The Onramp Program can work with you and your team to develop school-wide or grade-level projects. Educators work collaboratively with Onramp to identify learning objectives that align with their school mission, culture, and required curriculum. With support from the Onramp team and the Mobile Lab, educators will develop projects using technology (iPads) that focus on using creative tools, introducing coding concepts, and/or addressing community issues.  In some cases, your team may be eligible to earn professional development credits or stipends for participating. If you are interested in discussing options for educators, please contact us at onrampprogram@boisestate.edu
Learn more about what other educators have done with the Onramp Program.