Giving to Albertsons Library
Support Student Success
Albertsons Library provides high quality, relevant information and services to Boise State students, faculty, staff and the community. Access electronic and physical collections, technology, creative making spaces, archival materials and university history, and both quiet and collaborative study spaces. Skilled staff and librarians provide instruction and research assistance in person, virtually and in group settings. Donations support teaching, learning and research. We also accept select donations of books, manuscripts and other materials.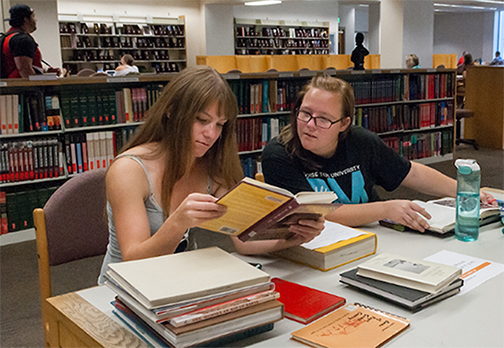 Library Initiatives Fund
Students' positive experiences within the library community impact their education, sense of belonging and post-graduate outcomes. Your donation provides ongoing funding for library programs and projects that support student enrollment, retention and success.
MakerLab
This department promotes innovative and creative activities. Your donation to our maker space supports the interdisciplinary, collaborative work of students, faculty, and staff through hands-on training and tools to turn ideas into reality. Regular workshops are scheduled throughout the academic year. Makers learn how to use equipment like 3D printers and laser cutters as well as sewing machines, button makers, and everything in between.
Special Collections and Archives
Your donation supports the acquisition, preservation, and access of archival collections about university, local and Idaho history. Researchers from campus, the Idaho community, and even worldwide use our original materials to advance the study and preservation of history.
Susan Henggeler Scholarship
Susan was a beloved library employee for nearly 48 years. She cared deeply about the campus community and had the opportunity to mentor and create long-lasting relationships with many student employees.  The scholarship provides the library's eligible student employees with the opportunity to receive additional funding to assist with purchasing needed class materials or payment of fees and tuition. Student eligibility requirements for the scholarship include being employed as a student assistant at the library for at least one year and demonstrating financial need by completing the Free Application for Federal Student Aid (FAFSA).
Warren E. McCain Endowment for Western Life
This collection was established in 1993 through a generous endowment by Albertsons' executive Warren E. and Bernie McCain.  Hundreds of individual donors matched the McCains' one million dollar "challenge grant." The books, journals and other media capture many aspects of Western history, including cultural life, the frontier experience, indigenous people, literature, anthropology, geography, politics and more. Your donation helps grow this collection.
Donation form
Thank you for considering donating to Albertsons Library. Please use the form below to submit a single or recurring gift.