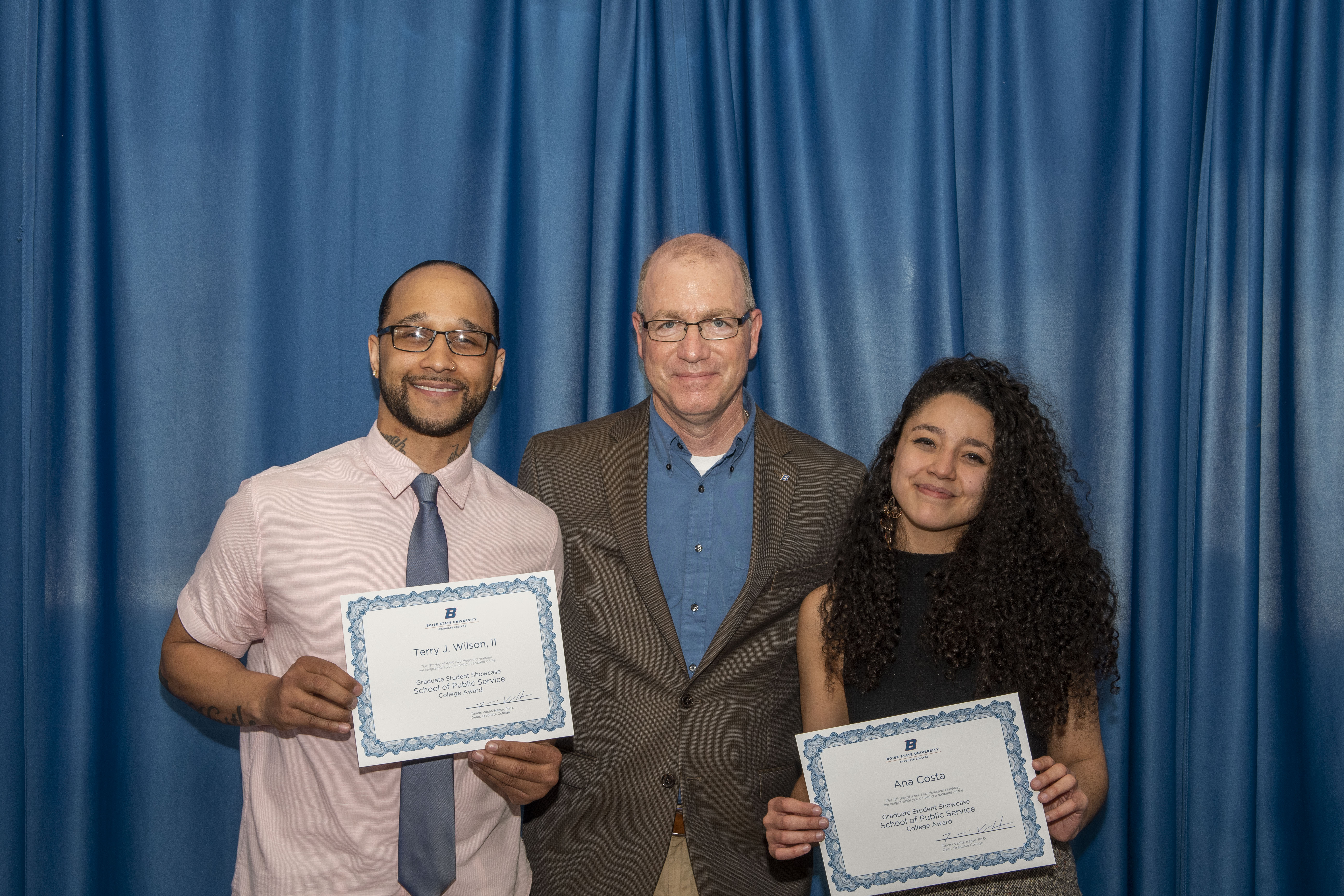 The Graduate College at Boise State University recently presented $21,250 in awards to 70 graduate students and two graduate faculty members. The awards ceremony, held April 18, honored graduate faculty with mentoring awards and celebrated graduate student award winners from the Graduate Student Showcase and the Three Minute Thesis Competition.
Graduate College Dean Tammi Vacha-Haase welcomed the large crowd, noting there was much to be proud of at Boise State, which boasts the largest graduate school in the state, populated with outstanding faculty and graduate students.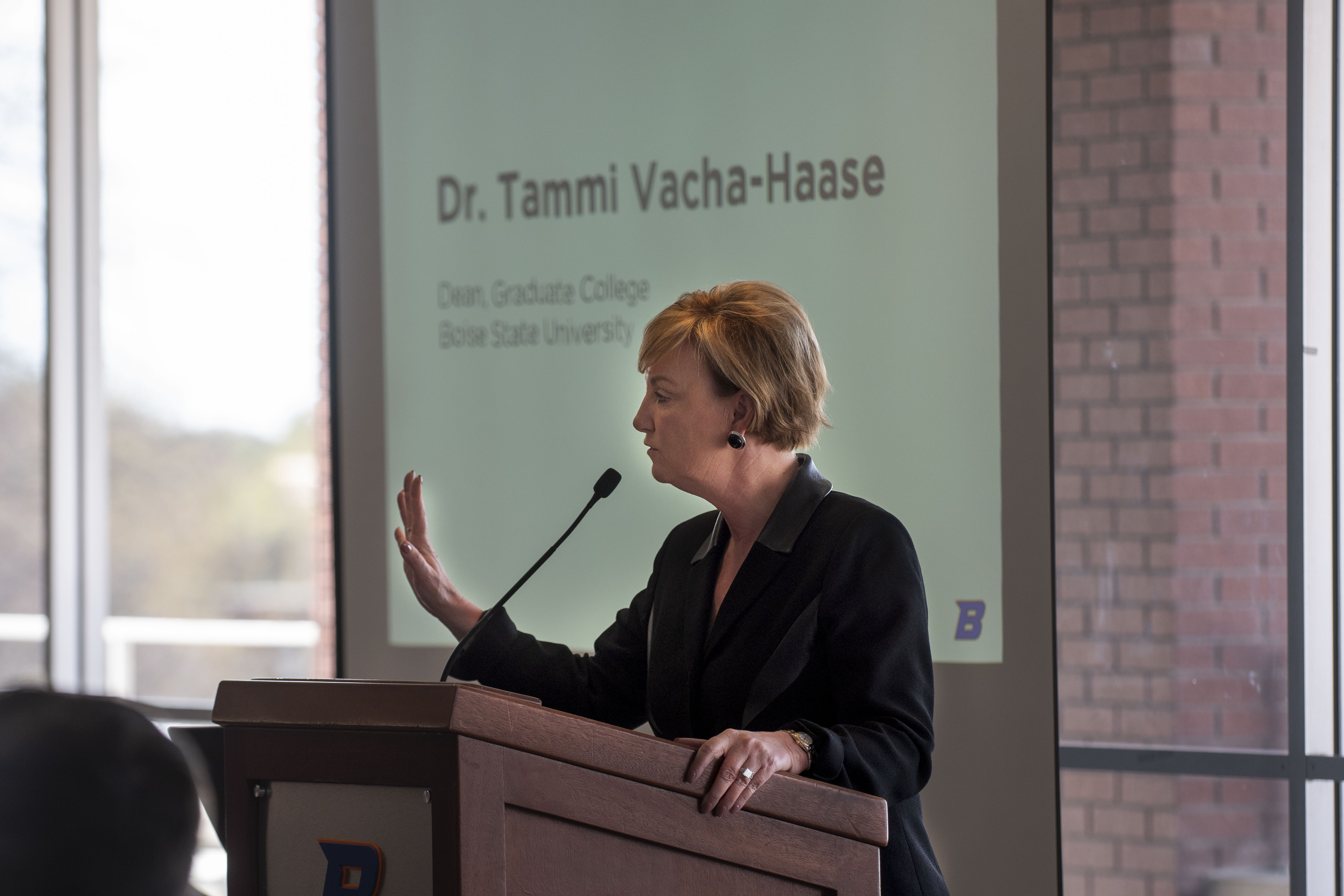 Honoring Outstanding Graduate Faculty
Graduate faculty members Sole Pera, assistant professor in the Department of Computer Science, and Brady Udall, associate professor in the Department of Theatre, Film and Creative Writing, each were awarded $1,000 and the Graduate College Excellence in Graduate Mentoring Award. This award recognizes and celebrates the considerable efforts of faculty who consistently serve as effective mentors and to encourage a culture of mentorship across the university.
"I look back to who I was at the beginning of grad school and I see who I am today, and it is really not hard to see that it was because my advisor pushed me to pursuit objectives, even when I wasn't sure I could do it," said Pera. "My advisor took the time to get to know me as a person, not just a researcher, so that he could better guide my path through grad school and help me succeed. That is what I try to emulate when I work with my students."
Daniel Fologea, associate professor in the Department of Physics, and Eric Hayden, assistant professor in the Department of Biological Sciences, each were recognized as honorable mentions for the Graduate College Excellence in Graduate Mentoring Award.
"As we continue to create a culture of mentoring at Boise State, these faculty clearly demonstrate the highest levels of commitment and passion for graduate education that is the hallmark of our community," Vacha-Haase said.
Graduate Students Awarded for Their Three Minute Theses
In addition to faculty awards, graduate students also were recognized for their achievements. Boise State graduate students who participated in the fourth annual Three Minute Thesis competition took on the challenge of presenting their thesis or dissertation topic in just three minutes and one slide. Originally developed by the University of Queensland, the competition cultivates students' academic, presentation and research communication skills.
This year marked Boise State's largest Three Minute Thesis competition yet. From a field of 20 finalists, Alexander Regner, a master's student in materials science and engineering, was awarded the first-place award of $750. Roxanne Stone, a master's interdisciplinary studies student, earned the second-place award of $500 and Nick Pollock, a doctoral geosciences student, earned the third-place award of $250. Audience Choice awards of $250 were presented to Vannessa Campfield, a master's chemistry student, and Rezvan Joshaghani, a master's student in computer science.
"The Three Minute Thesis Competition was a great way to help me identify how to communicate my research to any education and background level," said Stone. "It allowed me to practice my public speaking skills in a fun, but competitive environment."
"All of the graduate students shared their passion for their scholarship during the 3MT competition," said Vacha-Haase. "There is no doubt they are each making a difference with their research."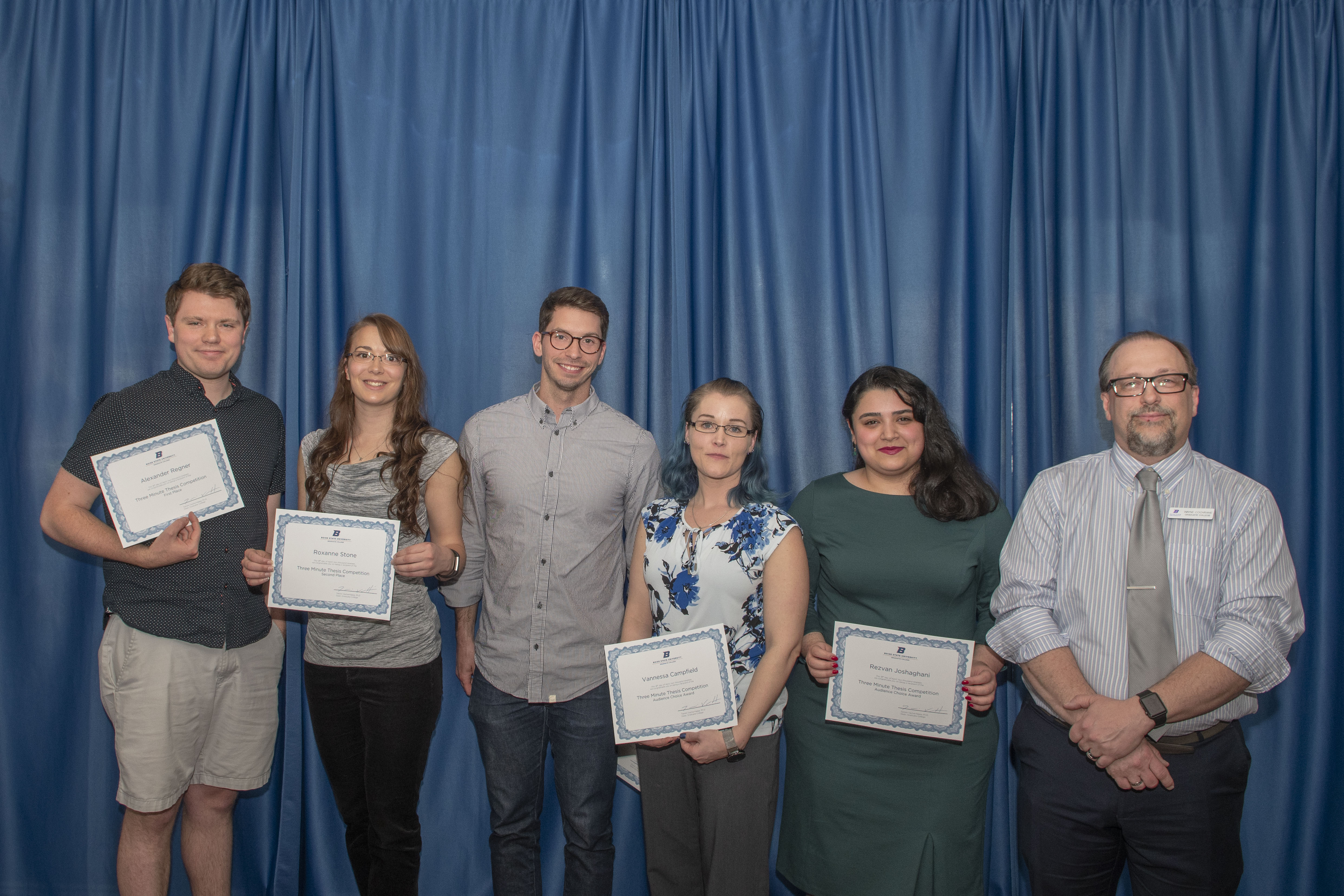 Highlighting the Best of the Graduate Student Showcase
The third annual Graduate Student Showcase highlighted the breadth and inspiring creativity of Boise State graduate student's research and featured 195 posters and arts presentations.
"The variety of scholarship and the potential for impact are truly outstanding. Student's posters offered an inspiring statement on the innovative and transdisciplinary research occurring at Boise State," said Vacha-Haase.
Faculty judges ranked posters on purpose, design, impact and overall impressions, while arts graduate students were judged on their originality, creativity, technical execution and artistic merit. Arts presentations included creative writing readings and art displays. More than $17,000 in award money alone was available to graduate students competing in the showcase.
"As a new graduate student, competing in the Graduate Student Showcase and winning the Presidential Scholar award was a true honor and this achievement is not only beneficial to building my CV, but will also promote my future fellowships and career progression," said Kristina Chapman, a graduate student in the Department of Biology. "Participating in this event also motivated me to continue working on my innovative project to ensure that our lab's work will be published in reputable journal, which will open new doors and potential collaborations in the near future."
With more than 70 master's and 12 doctoral programs, the Boise State University Graduate College seeks to continually grow graduate student opportunities and collaboratively celebrate student success. To see a complete list of all award winners and award sponsors, please visit the Graduate College Awards Ceremony website boisestate.edu/graduatecollege/graduate-college-awards-2019/