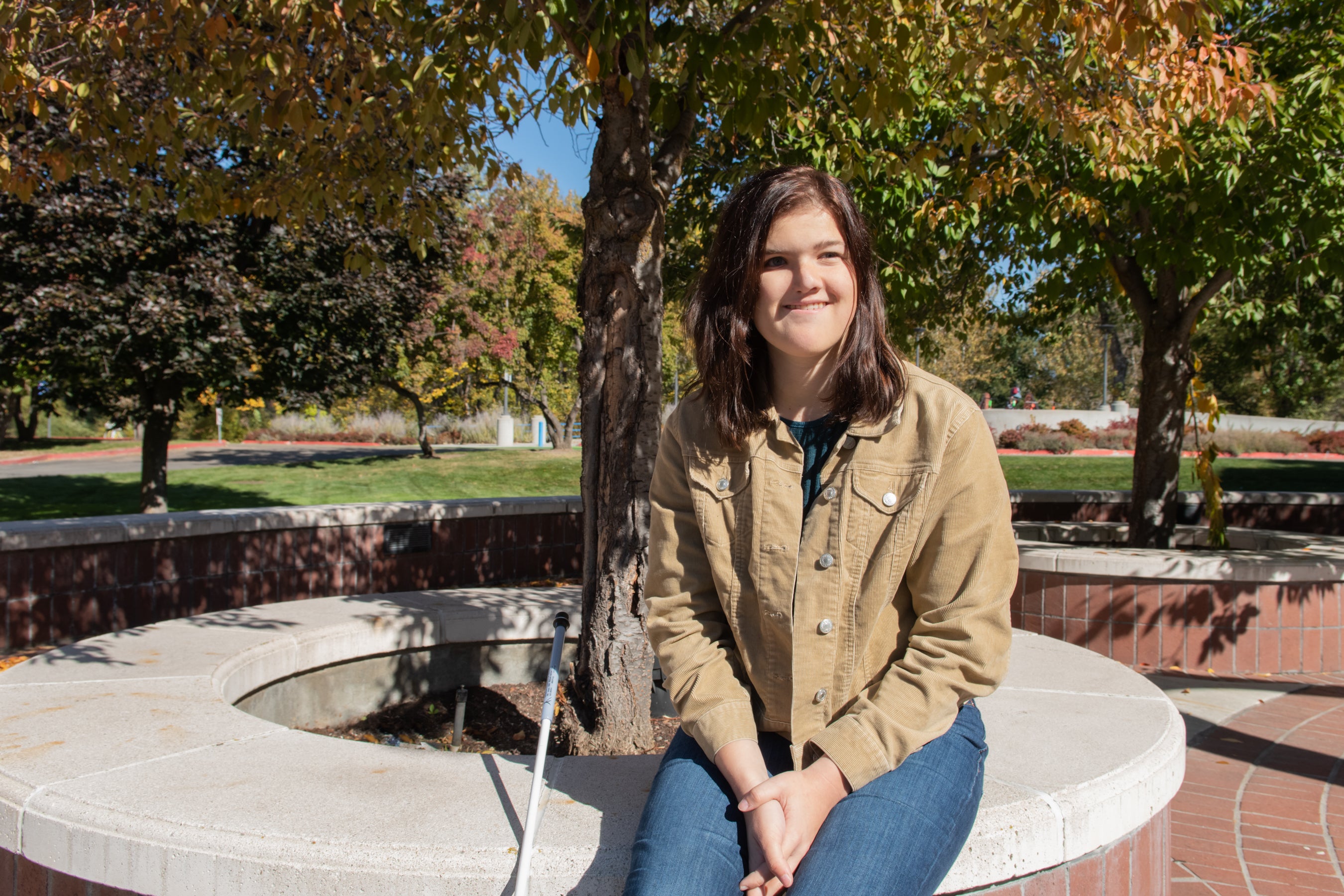 First-year Boise State student Amelia Palmer has hobbies and tastes typical of many college students – she likes being outdoors, cooking flavorful vegetarian meals and enjoying activities that give her an adrenaline rush. However, the way she navigates the world makes her impressions of campus unique: Palmer was born visually impaired and her eyesight has progressively gotten worse.
October is Blind Awareness Month. While being blind changes how Palmer interacts with the world, she is quick to stress that "your eyes are just one out of five senses. Not being able to use them as is typical for the rest of the world isn't the end of your world."
Being visually impaired has not diminished her intellectual curiosity. Palmer is double majoring in math and electrical engineering. Math because, she said, "it's artistic and I get to be creative and problem-solve," and electrical engineering because "I don't think that universal design is considered when people create things to use in everyday life and I want to change that."
She pointed to the city and university bus systems as examples. "The buses do not have a system that automatically calls out every stop. The city has a system that calls out major stops; however, the university does not have any system in place," she said. "That seems a unique oversight because there's not much work that you have to do to create one that calls out all stops and not just some."
When asked about the campus shuttle buses, Boise State's Transportation and Parking division explained that the buses don't come equipped with announcing systems like the city buses use.
"The retrofitting of our shuttles to incorporate a system like this is not straightforward but it is something the team is looking into for the future," said George Thoma, the communications lead for campus operations.
In the meantime, Thoma noted, shuttle bus drivers are instructed to call out stops and are willing to make accommodations for any rider.
In addition, Boise State students and staff members can utilize the ACCESS Bus operated by Valley Regional Transit and the university will all associated fees. These buses are equipped to handle riders with accessibility concerns and will operate on an established bus route as needed. The transit center on campus can assist in getting set up to use the ACCESS buses.
That said, the Portland, Oregon, native chose to attend Boise State because it has "the most adequate blindness-specific disability services of the colleges in Idaho," she said, many of them housed in Boise State's Educational Access Center. She also believes that Idaho has one of the most progressive commissions for blind programs in the United States – the Idaho Commission for the Blind and Visually Impaired.
Palmer herself is doing her part to ensure that Boise State lives up to its mission of providing an accessible education for everyone. She works as a student web accessibility analyst, which means that she helps monitor public-facing university websites to ensure that they can be easily, comprehensively scanned by screen readers – software programs that allow blind and visually impaired users to interpret the text. (For instance, websites that utilize graphics with words on them – .jpgs of flyers advertising an event – can only be "seen" by screen readers if they have proper alternative text attached to the file.)
"When a certain population can't access the content that you're creating, you're saying that they're not human enough to have the right to access it, whether you actually believe that or not," she said.
As a visually impaired student, she had a message for Boise State professors as well: "When lecturing, indirect words like 'this goes to that over there' are not helpful. What is 'this'? What is 'that'? Where is 'over there'?"
She urges individuals who are interested in learning more about accessibility issues, blindness and advocacy to check out the National Federation of the Blind of Idaho, the state's chapter of the largest blindness advocacy group in the U.S. Currently, the group is lobbying to ensure blind workers don't receive sub-minimum wages for their work through the introduction of a federal Disability Employment Act.
Finally, what does Palmer wish her peers knew about being sight impaired? Not having eyesight does not mean not having vision.
"Blindness is one of society's top fears, but it doesn't have to be," she said. "Sighted Thomas Edison invented the light bulb. Sighted people utilize this invention because they cannot imagine existing in a world of darkness. Blind people have invented things such as the white cane and Braille because they cannot imagine not existing in the world."