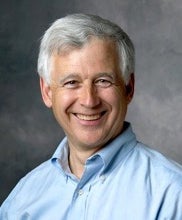 David R. Henderson, a senior research fellow at the Hoover Institution at Stanford University, will present the 2019 Brandt Foundation Lecture at 7 p.m. Nov. 4, 2019, in the Student Union Building's Jordan Ballroom. The lecture is free and open to the public. Free parking will be provided in the Lincoln Garage.
Henderson will deliver a lecture titled "The Case for Free Trade."
Annual Brandt Foundation Lectures bring noted speakers to campus who have made important contributions to public understanding of individual liberty, free markets, limited government and the Constitution. Beginning with the 2004 inaugural lecture by Nobel Laureate James M. Buchanan, the Brandt Foundation Lectures have attracted large audiences and contributed significantly to Boise State University and the larger community.
Henderson is a professor emeritus of economics in the Graduate School of Business and Public Policy at the Naval Postgraduate School in Monterey, California; the editor of "The Concise Encyclopedia of Economics"; co-author of "Making Great Decisions in Business and Life"; and author of "The Joy of Freedom: An Economist's Odyssey." Henderson frequently writes for the Wall Street Journal and Fortune magazine, as well as blogs.
Born and raised in Canada, Henderson earned his bachelor's degree in mathematics from the University of Winnipeg in 1970 and his Ph.D. in economics from UCLA in 1976.
Henderson has taught at the University of Rochester's Graduate School of Management, the University of Santa Clara and the Center for the Study of American Business at Washington University, St. Louis. He was a professor of economics in the Graduate School of Business and Public Policy from 1985-2017, where he was honored for teaching excellence in 1997, 2003, 2004 and 2007.
He served on President Ronald Reagan's Council of Economic Advisers from 1982-1984 as the senior economist for energy and health policy.
Henderson has written for the New York Times, Barron's, Fortune, the Los Angeles Times, the Chicago Tribune, Public Interest, the Christian Science Monitor, National Review, the New York Daily News, the Dallas Morning News, and Reason. Henderson also has appeared on Fox News' O'Reilly Factor, C-SPAN, CNN, the Newshour with Jim Lehrer, CNBC Squawk Box, MSNBC, BBC, CBC and the Fox News Channel.
Learn more at the Hoover Institution at Henderson's website. Henderson blogs on Econlog the Library of Economics and Liberty.
Read about the Brandt Foundation Lectures.