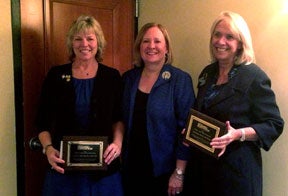 Cindy Clark and her co-authors, have been awarded the Journal of Nursing Education's Christine A. Tanner Scholarly Teaching Award for their article "Exploring and Addressing Faculty-to-Faculty Incivility: A National Perspective and Literature Review," which was published in the Journal of Nursing Education in April 2013. Clark's co-authors include Lynda Olender, chief nursing officer at Rockefeller University Hospital in New York, and Cari Cardoni and Diane Kenski, both of whom were research assistants for Clark when they were undergraduate students in the School of Nursing.
This prestigious award is named after Christine A. Tanner who served as editor of the journal from 1991-2012 and is now editor emeritus. The award recognizes excellence in writing and the impact of outstanding research on advancing knowledge in the field of nursing education. All major articles published in the journal each year are eligible for the award. Clark and Olender received the award on Sept. 19 at the National League for Nursing Education summit in Washington D.C.
"Exploring and Addressing Faculty-to-Faculty Incivility" is the first-known quantitative study to measure nursing faculty perceptions of faculty-to-faculty incivility. A total of 588 nursing faculty representing 40 states in the United States participated in the study. The authors found that faculty-to-faculty incivility was perceived as a moderate to serious problem with stress and demanding workloads as two of the factors most likely to contribute to faculty-to-faculty incivility. Fear of retaliation, lack of administrative support and lack of clear policies were cited as the top reasons for avoiding addressing the problem of incivility.