Athletic Training Services
Campus Recreation partners with St. Luke's Sports Medicine to offer drop-in athletic training services for all members of the Boise State community. During scheduled clinic hours, patrons are welcome to meet one-on-one with an athletic trainer to have an injury evaluated and treated.
Services include acute care and evaluation of athletic injuries, consultations and education, rehabilitation, taping/wrapping, manual therapy and medical referrals.
Concussion Safety and Management
What is a concussion?
A concussion is caused by a blow or motion to the head or body that causes the brain to move rapidly inside the skull. The risk of catastrophic injuries or death is significant when a concussion or head injury is not properly evaluated and managed.  Concussions are a type of brain injury that can range from mild to severe and can disrupt the way the brain normally functions.  Concussions can occur in any organized or unorganized sport or recreational activity and can result from a fall or from collisions with players, the ground, or obstacles.  Concussions occur with or without loss of consciousness.  Continuing to play with a concussion or symptoms of a head injury can leave a person vulnerable to greater injury and death.
The concussion guidelines and policy followed by Athletic Trainers are in accordance with the guidelines as outlined by the National Athletic Trainers' Association (NATA), the Legislature of the State of Idaho (HO 632), Center for Disease Control and Prevention (CDC), and St. Luke's Concussion Clinic.
Concussion Baseline Testing
All athletes playing a high impact sport (boxing, M/W hockey, M/W lacrosse, M/W rugby, M/W soccer) are required to complete a baseline test prior to participation in the sport. Baseline testing is optional for athletes in all other sports.
Concussion Evaluation
Once an athlete is suspected of having suffered a head injury, they must be removed from play and evaluated by an athletic trainer or qualified physician. At this time, the athletic trainer will determine a diagnosis and decide whether or not it is appropriate for the athlete to return to play.
If initially evaluated or re-evaluated outside of Campus Recreation, a signed letter from the healthcare professional who conducted the evaluation must be brought to the Club Sports Office for proof of being cleared for return-to-play. The club coaching staff will be notified of the athlete's condition and ability to return to play.
If there is no athletic trainer or physician present at the time of injury, the athlete should be removed from play until they can be evaluated. Here is a table of common signs and symptoms coaches and athletes should be aware of: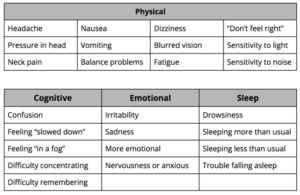 Concussion Management
Please refer to the Club Sports Concussion Management Plan for detailed information on protocol for removing an athlete and returning an athlete to play following a concussion diagnosis.  If at any time any signs and symptoms return, the athlete is to stop all activity immediately and report to the athletic trainer(s) or physician.
Concussion Compliance
The club sport athlete, team, and coaching staff must follow the concussion policy as set forth by Boise State University Campus Recreation based on standards outlined by the National Athletic Trainers' Association, the Legislature of the State of Idaho (HO 632), and the Centers for Disease Control and Prevention.  If at any time a club sport athlete does not follow the stated concussion and head injury guidelines and policy, he or she will be put on probation and not allowed to participate in his or her chosen club sport until compliance is met and the athlete and coaching staff is notified by the Coordinator of RecSports.
Concussion Management Resources