Lecturer, Department of Respiratory Care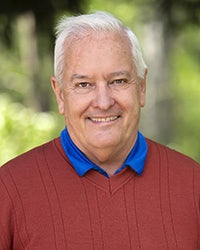 Joe Coyle is an Anesthesiologist and Critical Care physician with a long interest in Respiratory Care Education. Dr. Coyle is a graduate of Hahnemann Medical College and he did his Anesthesiology residency at Bethesda Naval Hospital. Dr. Coyle did Fellowships in Cardiac Anesthesiology and Critical Care Medicine at Massachusetts General Hospital. He is board certified in both Anesthesiology and Critical Care Medicine. He served in the Navy at Bethesda Naval Hospital and then moved to the Cleveland Clinic, where her served as Director of the Cardiac Anesthesiology Fellowship Program. He moved to Carolinas Medical Center in Charlotte, NC, where he served for 25 years in a variety of roles including Director of Cardiac Anesthesia, Director of the Cardiac Surgical Intensive Care Unit, Medical Director of Respiratory Care, Vice Chief of the Department of Anesthesia, and Director of Quality Improvement.
Dr. Coyle was a Clinical Associate Professor at University of North Carolina at Charlotte for 9 years, where he helped found and direct the online BSRT and MSRC programs. He won the teaching award for the College of Health and Human Services twice during that time. He was long time Chairman of the North Carolina Respiratory Care Board and was recently made the Emeritus Chair of that licensing board. He has served nationally as an examiner for the American Board of Anesthesiology and he is currently a Commissioner on CoARC, the national accrediting organization for Respiratory Care. He currently serves as the Chair of the Degree Advancement Committee for CoARC.
While at UNC Charlotte, Dr. Coyle was Medical Director for the Health Risk Assessment Program and mentored several master and doctoral level students in clinical research. He served as faculty advisor for UNCC's Chapter of Alpha Epsilon Delta Pre-health Professions Honor Society. He also served on the UNCC Institutional Review Board and was a member of the university committees evaluating and adopting a new learning management system and web-conferencing system.
Dr. Coyle and his wife Pat of 45 years moved recently to Boise to be near family including his son and daughter in law and their 2 beautiful daughters who live across the street in the North End. Dr. Coyle is looking forward to exploring Idaho and fly fishing in the many great rivers in the area.
Contact Information
Office: HSRV 206C
Phone: (208) 426-3347
Email: joecoyle@boisestate.edu