Lonny Ashworth, MEd, RRT, FAARC
Professor, Director of Research, Department of Respiratory Care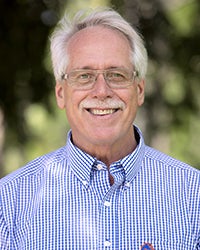 Lonny J. Ashworth began teaching at Boise State University in 1977. He earned his Associate of Science Degree in Respiratory Care and his Bachelor of Science Degree in Psychology from Boise State; he earned his Master of Education from College of Idaho. He is a Licensed Respiratory Care Practitioner with the State of Idaho.
Ashworth was the Chair of the Department of Respiratory Care at Boise State for 17 years, but his passion is teaching and spending time with his students; he has maintained a full teaching load for more than 40 years. In 2012, he was named a Fellow of the American Association for Respiratory Care. In 2016, he received the Boise State University Foundation Scholar Award for Excellence in Teaching.
Ashworth has a strong interest in getting undergraduate students involved in research, resulting in more than 45 student presentations at the American Association for Respiratory Care International Congress. His research interests include adult mechanical ventilation, mass casualty ventilators, noninvasive ventilation and transport ventilation.
Ashworth was introduced to Dr. Toshihiko Koga in 1994. Since that time, Ashworth has been involved with the International Exchange Visit Programme for Respiratory Care Professionals. He travels to Japan twice per year to present multiple workshops on mechanical ventilation and respiratory care to physicians, nurses, physical therapists, biomedical engineers and other health care professionals. This relationship has resulted in several Japanese health care professionals transferring to Boise State University to complete their Bachelor of Science in Respiratory Care. Additionally, an endowed respiratory care scholarship was created by the Koga Family in honor of Dr. Toshihiko Koga. In 2015, Ashworth received the Koga Medal for excellence in promoting globalization of quality respiratory care.
Contact Information
Office: HSRV 206D
Phone: (208) 426-3673
Email: LAshwor@boisestate.edu
Vitae