Department Chair, Clinical Associate Professor, Director of the Master of Science in Respiratory Care Program, Department of Respiratory Care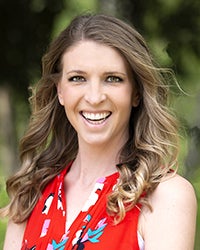 Megan Koster is a Clinical Associate Professor in the Department of Respiratory Care. She has been a Registered Respiratory Therapist since 2007, specializing in neonatal and pediatric intensive care.
Koster earned a Master of Health Science with an emphasis in Health Promotion from Boise State University in 2011 and has been full time faculty since. Koster earned her Doctorate in Education from the University of New England in 2017, focusing primarily on innovative methods of identifying and assessing intellect in the undergraduate admissions process.  The theory and assessment of both intellect and skill, specifically in clinically-based programs throughout higher education, continues to be a primary research interest.
She is also passionate about advancing the field of Respiratory Care and online learning.  In 2017 Koster was named the Director of the Online Master of Science in Respiratory Care (MRSC) program at Boise State.  Koster, along with the exceptional team of both faculty and staff in the Department of Respiratory Care are proud to offer working Respiratory Care Practitioners from around the country the opportunity to advance not just their education, but also the field of Respiratory Care through a carefully designed curriculum focused in educational leadership.  Delivering high-quality education in a way that is accessible and applicable for adult learners is a top priority as she focuses on developing the MSRC curriculum.  For more information on the Boise State Master of Science in Respiratory Care program, visit the MSRC website.
Koster enjoys volunteering with both local and global organizations.  While gaining clinical experience in the Treasure Valley, she served on several interdisciplinary medical teams traveling to underserved areas of the globe to both provide and educate local teams on the theory, application, and management of mechanical ventilation and the implementation and evaluation of community-based health programming.  Although championing universal access to basic health care through such missions continues to be a passion, welcoming two sons in recent years has kept her volunteer interests closer to home. Locally, she works with Idaho Diabetes Youth Programs, whose mission is to educate, assist, and build a life-long community for kids managing Type 1 Diabetes.
The Idaho native lives in Boise with her husband and their family.
Contact Information
Email: MeganKoster@boisestate.edu