Strategic Enrollment and Retention Plan (SERP)
Read the Fall 2023 SERP annual report
Boise State's Strategic Enrollment and Retention Plan (2023-2028) is a key component of goal 1 of the Blueprint for Success university strategic plan: Improve educational access and student success. We call it the SERP, and it's both a plan and an ongoing process for focusing on student access and success.
The SERP addresses two questions: How can we create more access to a Boise State degree, especially for Idaho students we've traditionally underserved? And once students have joined our community, what can we do to support each student to have a rich, high quality experience that leads to a degree?
The Plan
The plan outlines a set of strategies to improve our capacity to serve all students effectively, as well as processes to implement and assess those ideas. There are three themes that emerged from the collaborative work to build the SERP:
Connections
Every interaction with a student is an opportunity to help a student feel heard and seen, to send a message that they belong at Boise State. We strive to provide a "Relationship-Rich Education" in which we extend a welcome to all our students and seek to connect them to faculty, staff and their peers when they apply, when they transition to being a student, and at each new opportunity for connection along their path to a degree
Student Journeys
Every student's pathway is unique and our environment seeks to intentionally support a wide variety of types of journeys. Student stories and experiences matter. We must center students and their needs by supporting wayfinding, communicating clearly, and proactively removing barriers to their progress.
Engagement
While interactions with the university could be experienced by students as a series of transactions, we seek to help students find meaningful engagement all along their journey. This engagement will help students identify their goals for their education, reflect on their learning and growth, and form the foundation for a meaningful career and a commitment to making a "meaningful difference in the world around them."
The Goal
The SERP seeks to decrease equity gaps in access and graduation rates by half in 5 years, with particular focus on four specific student populations, especially those who come from Idaho.
First-generation college students
Pell-grant eligible students
Latinx students
Rural students
How was the plan generated?
In spring 2021, a visioning meeting, which engaged a large cross section of staff and faculty, generated rich ideas for what Boise State might look like if we were creating more access and better supporting student success. The ideas from that meeting helped identify multiple areas to focus our efforts to move toward that vision. During spring 2022, seven working groups, each comprised of staff and faculty from across university with expertise in a particular area of focus, talked to stakeholders, gathered ideas, and generated a set of strategies to be included in the plan. During summer 2022, leadership from within both Academic Affairs and Student Affairs & Enrollment Management analyzed and sorted the proposed strategies and generated an implementation plan. The plan and the process for its implementation was endorsed by Boise State's executive leadership in August 2022.
How is the plan being implemented?
The plan is an intentional partnership between Academic Affairs and Student Affairs and Enrollment Management. The new Enrollment and Retention Action Team will be responsible for moving the plan's proposed strategies forward and assessing their impact. At a higher level, the plan and its progress will be guided by the Enrollment and Student Success Governance Council (ESSGC)
Have an idea to help support student success?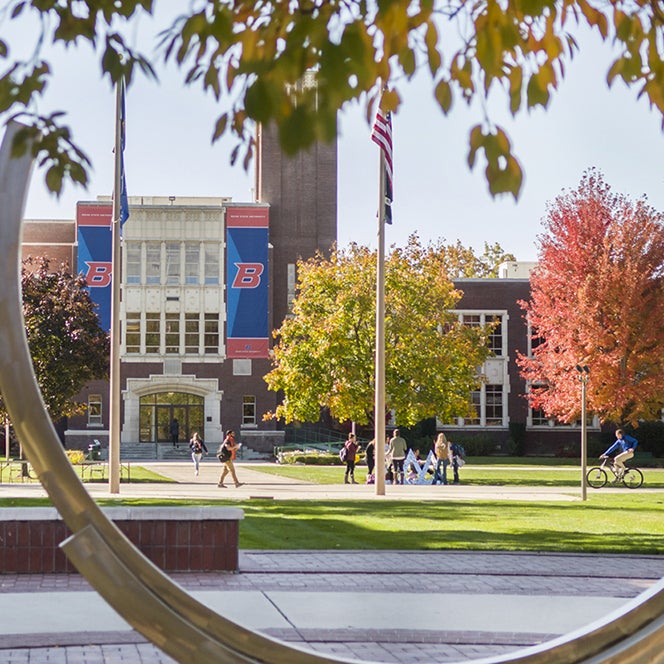 Many units on campus are working on student access and success. If you have an idea that you think would benefit from the central coordination and consideration of the SERP, please share it. The Enrollment and Retention Action Team will review all ideas for inclusion in the SERP process.