The USFMC (Former Members of Congress) created the Congress to Campus program to provide students with the opportunity to ask a bi-partisan team of two former Members of Congress questions that pertain to their personal or academic interests. The program's summary can be found here.
2023 Congress to Campus - March 5th - 7th, 2023
March 5 – 7, 2023
Sponsored by Congress to Campus, the U.S. Association of Former Members of Congress.
Watch an interview with former Congress members Dahlkemper and Paulsen on our YouTube Channel.
Former Congresswoman Kathleen Dahlkemper (D-PA) was persuaded to run for Congress by friends and family in 2007. "Honestly, it was not something I was thinking about before I was asked," she recalled. In her first attempt for political office, she campaigned as a concerned citizen looking to effect change, using her experience as a single mother and a small business owner to connect with voters. After winning a four-way contest for the Democratic nomination, she faced seven-term Republican incumbent Philip Sheridan English in the 2008 general election. Dahlkemper pointed to growing discontent with President George W. Bush and challenged English for supporting the administration. Dahlkemper campaigned on the economy and job creation, issues that northwest Pennsylvania, once an industrial hub, had struggled with for many years. She defeated English 51 percent to 49 percent. When she was sworn in on January 6, 2009, Dahlkemper became the first woman to represent the northwestern region of Pennsylvania in Congress.
Congressman Erik Paulsen (R-MN) represented Minnesota's Third Congressional District from 2009 – 2019. He served as a leading member of the chief tax-writing House Ways and Means Committee, which has jurisdiction over health care, economic and trade policy. Erik also was the Chairman of the Joint Economic Committee, focusing on innovation, entrepreneurship, access to capital, digital trade, and key economic issues, while working with the President's Council of Economic Advisors and Federal Reserve Board. Erik served as co-chair of the House Medical Technology Caucus and was the premier leader and advocate for the medical technology industry, the life-saving technologies it provides to patients, and the hundreds of thousands of jobs it supports. In addition, Erik was a member of the Deputy Whip Team and co-chaired the Digital Trade Caucus and the Transatlantic Trade and Investment Partnership Caucus to promote trade with Europe. In 2019, Paulsen served as co-chair of the Pass USMCA Coalition, a group of trade associations, businesses, and advocacy groups working together to ensure swift passage of the United States-Mexico-Canada Agreement. He is an independent director on the boards of Cardiovascular Solutions, Inc. and Pediatric Home Service, Inc., and is the Chairman of the Institute for Gene Therapies. Erik also is a Strategic Advisor at Total Spectrum, a government affairs firm. In addition, Erik is a board member of the Economic Club of Minnesota. Prior to his service in Congress, Rep. Paulsen was a member of the Minnesota State Legislature, where he served as House Majority Leader. Erik has over 16 years of business experience, including working as a business analyst at Target Corporation. He received his B.A. in mathematics from St. Olaf College and resides in Eden Prairie with his wife and their four daughters.
2022 Congress to Campus - March 27-29, 2023
March 27-29, 2022
Sponsored by Congress to Campus, the U.S. Association of Former Members of Congress.
Watch an interview with Congessmen Baird and Goodlatte on Boise State TV's YouTube Channel.
Former Congressman Brian Baird (D-WA) served in the U.S. House of Representatives for Washington's 3rd Congressional District from 1999-2011. He served on the House Transportation and Infrastructure; Science; and Budget Committees; as well as the Democratic Steering Committee and Senior Regional Whip. He is the former chairman of the Department of Psychology, Pacific Lutheran University. He holds a Ph.D. in clinical psychology from the University of Wyoming and is a licensed clinical psychologist.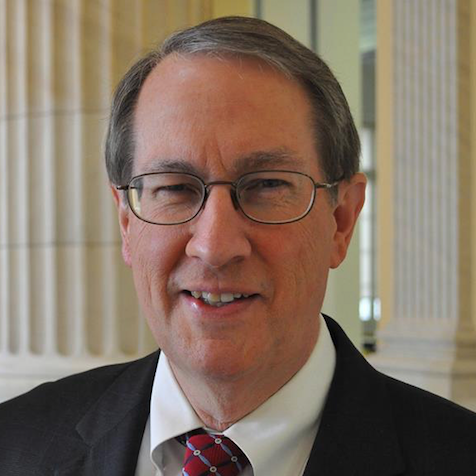 Former Congressman Bob Goodlatte (R-VA) served in the U.S. House of Representatives for Virginia's 6th Congressional District from 1993-2019. He served on the House Agriculture and Judiciary Committees, where he was Chairman; as well as Co-Chairman of the bipartisan Congressional Internet Caucus. He currently represents the Project for Privacy & Surveillance Accountability. He holds a Juris Doctor degree from Washington and Lee University School of Law.