The Boise State Student Life Newsletter is a monthly email newsletter packed full of helpful information you'll want to know as a Boise State student. Find out what's happening, read student stories, learn about resources, and share some laughs with us while you're at it. We'd love for you to join us.
Sign up for the Student Life Newsletter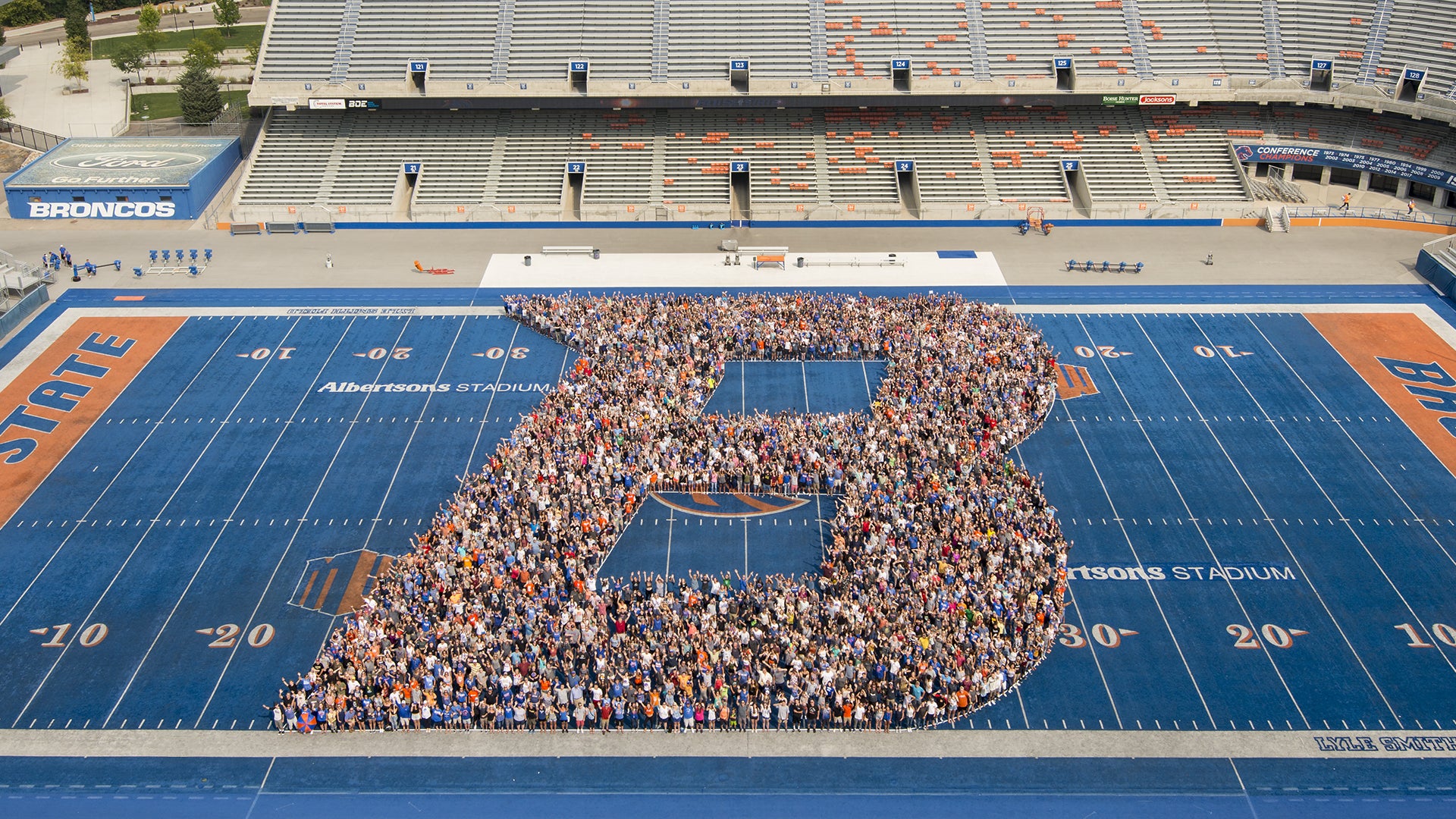 Welcome to the 19th edition of the Student Life newsletter. Thanks for following along. Thanks for reading our words. Thanks for being you. Go Broncos!
My therapist said to me the other day, "When are you going to actually take the compliments people give you?" And I thought, I thought I was taking them.
But she told me when someone tells you something nice and you say thank you, but you don't acknowledge, accept, and actually praise the good thing about yourself, you're not really taking the compliment. She said, "The things people are saying about you are true, you just don't seem to believe them."
I can be so hard on myself. So much so that I'm rushing to the next milestone before I've even finished this one. And then, what ends up happening is, I didn't fully capture that moment of achievement in my mind, so it kind of feels like it never happened. Then I'm hard on myself for seemingly not achieving anything or not achieving something big enough to actually be praised — and the cycle continues. (If you relate to one or more statements mentioned here, please raise your hand)
As a side effect, it's easy to get burnt out, feel under-appreciated, or feel like we're perpetually not good enough. So, when someone says, "Oh my goodness! Congrats on that huge thing!" You're like, yeah, yeah it's not as good as it could have been or it's not as cool as this next thing is going to be.
I think we should make a pact to stop doing that to ourselves. The end of the semester is just three weeks away, Broncos. Then a week of finals, and commencement. So, you should take this time to think back on everything great you've done this semester and be proud of yourself (No, actually do it. Don't just say you're going to).
If you need some ideas for just how much you've done, we can help with that.
A Lot of You Found Your People!
And that's not always easy to do. That might have looked like joining a fraternity or sorority, a club, or maybe choosing your major. And if you feel like you haven't yet, there's still so many chances.
You Balanced A LOT This Year, Broncos
Okay, maybe things didn't always feel 100% balanced, but you still did it! Even when you've got jobs and internships, class schedules, on top of extracurriculars, and maintaining a social life. We've always got tips to try and help you manage things a little easier.
You Handled Conflicts
You figured out how to be a new friend, roommate, classmate, and teammate. Something we don't talk about enough is how seriously hard that is. Meeting new people in college comes with challenges and conflicts and they don't really hand you a handbook on how to handle those kinds of things when they come up. Don't worry, we've got you covered with some tips.
What's Happening
Another crucial piece to the puzzle is finding meaningful community and causes that matter to you. Maybe you've found some things to be a part of, but feeling like you belong is really what the Bronco spirit is all about. Broncos support each other in all of our beautiful uniqueness. We're happy you're you, so let's celebrate it!
Nicely Done
We have such awesome members of our Boise State campus who get involved in volunteer and community work! We're so proud of the work you've done and the inspiration you give to other Broncos. Here's a chance for us to recognize and celebrate these incredible students.
Check out the Spring Service-Learning Exhibition, Wednesday, April 27, 2022 from 4 – 6 p.m. in the Hatch Ballroom in the SUB! Student posters and videos will also be displayed online from April 27 – May 5, 2022.
Students will showcase their service-learning experience, demonstrating how these projects provide authentic real-world learning and make a valuable impact in the community.
Service-Learning (SL) is an innovative teaching and learning method that integrates course content with relevant community service. Boise State offers over 160 service-learning courses each year from over 35 departments across each college in partnership with over 80 community partners, 80 faculty members, and over 2,800 students. The Service-Learning staff are part of the CTL and provide extensive support for planning, implementing, and assessing SL.
Each semester Service-Learning hosts an exhibition to celebrate the broad reach of Boise State's commitment to civic engagement.
Oh, by the way…
We know you've accomplished plenty with your semester, but if you're interested in giving back (and adding one more thing to your resume), check out the Service Saturday event happening April 16 from 9 a.m. – 1 p.m.
Meet in the SUB dining area at 9 a.m. for breakfast, then get ready to head over to two Idaho Youth Ranch locations to help with various tasks in an effort to support their mission.
Note: You are required to wear closed-toe shoes and a mask. We also ask that you don't wear shorts, sleeveless tops, or ripped jeans. These can all be safety hazards and we want to take every precaution to make sure we all stay safe. Also, personal transportation is encouraged, and/or carpooling, since we will be traveling to different Idaho Youth Ranch locations.
More Ways to Stay in the Know