Treefort Music Festival, held each March in downtown Boise, brings bands, fans and businesses from across the country to the City of Trees. But the five-day festival also focuses on helping the community as a certified B-Corp.
B-Corps are for-profit companies that seek to "use the power of business to solve social and environmental problems." Companies are certified as a B-Corp by an external organization, called B Lab, and must meet higher standards of social and environmental performance, accountability and transparency.
Emily Erickson, manager of the Responsible Business Initiative in the College of Business and Economics, said there are 14 students that volunteer their time to work with companies either certifying for the first time or re-certifying as a B-Corp. Four of those students are working with the Treefort leadership team to re-certify.
"B-Corps have to re-certify every two years," said Erickson. "And every time it gets tougher and those businesses have to focus even more on their community, accountability and the environment."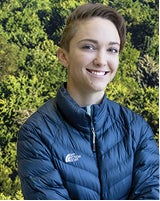 Alex Suggs, Career Track MBA student and graduate assistant working with the students, said they're learning real-world skills that'll help immensely after graduation.
"They serve as student consultants, helping real businesses make real plans," Suggs said.
In summer 2014, the Treefort leadership team decided to form Treefort LLC and began seeking B-Corp certification, which was officially granted in 2015. According to the B Lab website, there are 2064 certified B Corps from 43 countries and over 120 industries, including eight right here in the Gem State.
This year, Treefort Music Fest will consume much of downtown Boise March 22-26.