Radar Detection of Oil Under Sea Ice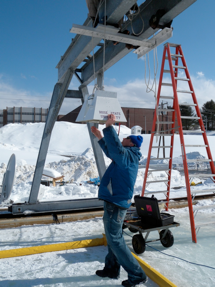 The possibility of an oil spill in the polar regions presents a considerable challenge for monitoring the location of the spill, as oil trapped underneath sea ice can not be detected using standard airborne and spaceborne optical techniques.  We are designing a Frequency Modulated Continuous Wave (FMCW) radar specifically for detecting oil underneath sea ice.  A prototype system built in 2010 was tested in January 2011 in an outdoor test facility at the U.S. Army Cold Regions Research and Engineering Laboratory (CRREL).  An improved second prototype has been developed during 2011, and another set of tests at CRREL are planned for late January 2012.   Pending successful tests at CRREL, airborne tests with the system will be performed on the Arctic Ocean near Prudhoe Bay, Alaska in late March 2012.
John Bradford has demonstrated that oil can be detected below sea ice using commercial GPR systems from the ground.  Initial helicopter tests indicated that oil could be detected with these kinds of systems under some conditions, however transmitted power and beamwidth were limiting factors.  Our current design has a much higher transmitted power and smaller beamwidth, as well as a more controlled source signal.  Radar wave propagation modeling by Bradford is helping to define the necessary requirements for detecting oil under sea ice in a wide range of conditions.
Researchers
H.P. Marshall, John Bradford, David Dickins, Bob Hay
Funding
D.F. Dickins and Associates (01/2010-06/2012)