Yong Gao – Physical Activity Assessment
Develop Diagnosis Algorithms: Advanced Measurement & Statistical Evaluation
In the Develop Diagnosis Algorithm 40.5 research grant, Dr. Gao acts as an expert in providing the local hospital's research team with psychometrical/biostatistical analysis. Using her knowledge in measurement and evaluation, kinesiology, biostatistics, and research design, she acts as a contributor to the multiple research projects at St. Luke's Hospital.
Funded:
St. Luke's Regional Medical Center of Boise, ID
Additional Information: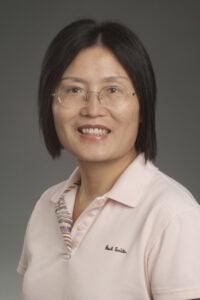 Gao's research interests explore the applications of modern measurement and statistical techniques to critical issues in physical activity and public health. This includes evaluating measurement issues in health and physical activity research, and the existing tools and instruments used in measurement.
Principal Investigator:
Yong Gao, Ph.D
Contact Information: