Here's the story of the MM14 fire:
Updated 9/13/16
Lucky Peak is safe and was not burned!
Highland Valley Road (the only driving access to the peak) has been closed until at least Spring 2017. Here's a map of the trail closure.
Lucky Peak is closed to visitors for 2016. Please check out our Boise River banding dates for 2016. We look forward to seeing you on the peak in 2017!
Please do not hike to or otherwise enter any of the burn areas. We need to stay off and let habitat rehabilitation begin.
Our hawk trapping and owl gear burned in a storage shed off of Highway 21.  Thanks to your generosity, we were able to restore our projects after the fire!  Visit our PonyUp page
---
Tuesday–the fire starts
On Tuesday, July 19th, the Milemarker 14 fire started along Highway 21. Shortly after the smoke appeared our crew evacuated our Lucky Peak station, taking only the songbird banding data sheets with us. Our last crew member made it out just in time before the fire engulfed Highland Valley Road.
Watching from town we worried as the pillar of smoke got closer and closer to the peak.
We saw firefighting planes dropping retardant close to our camp…through a scope we could even see that retardant had painted our outhouse and gate bright red. We called the Boise River WMA Manager, Krista Muller, and learned that she and her crews were safe. However, they left the WMA offices along Highway 21 at the last minute, chased out by flames that were approaching the headquarters. Krista said that as she was leaving she watched our storage shed, containing all our Raptor and Owl trapping gear, go up in flames.
After dark we returned to Municipal Park in Boise check on the peak again…it calmed our nerves that we could not see any flames or vehicles lights. We hoped the fire was dying down and moving away from our station. We watched the news and social media all evening, waiting for word about the peak. Going to bed that night, we feared the worst…we had heard from a few sources that the peak was expected to be engulfed overnight.
Wednesday–0% contained
As soon as daybreak came on Wednesday we rushed to a view point to see whether the habitat around the peak was still intact. We were relieved to see that all appeared well…there were still trees visible and the smoke had moved farther away.
Although our camp on the peak remained unburned, we received reports throughout the day confirming what Krista had said about the damage done to the Boise River WMA offices. Dramatic photos appeared on social media of flames engulfing the offices and our equipment. Sadly, we also learned that a woman lost structures on her property as well, although firefighters were able to save her home.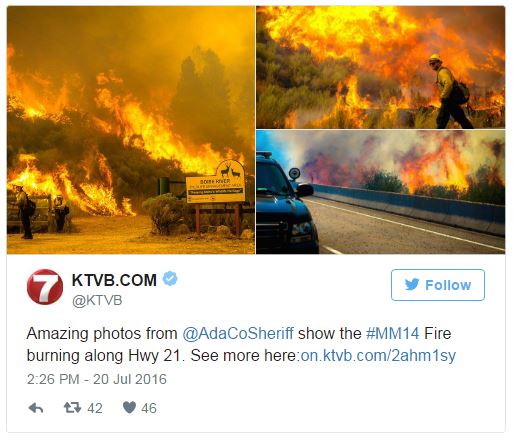 Thursday–progress
Thursday the 21st we were still watching the fire with caution. Hot weather and wind moving in to the area are not good for fire suppression efforts but we knew the firefighters were working hard to keep fire away from our station. By the end of the day we were impressed to see they had the fire 80% contained!
News updates continued, including our first aerial view of the fire's extent. We realized just how lucky we were that our site was saved from the fire! In this image you can see Lucky Peak and our station in the top right, with only about 1km of land separating our camp and the burn.
Friday–almost out
Today, Friday the 22nd, firefighters continue to work to reach 100% containment. We watched from town, catching glints of firefighting vehicles traveling up and down Highland Valley Road, searching for hotspots and putting out any still-smouldering patches. By the end of the day Friday we hope to see 100% containment.
Saturday–surveying the damage
Saturday was a big day for us. Along with an escort, our crew returned to Lucky Peak for a brief visit to get our gear and assess any damage done by the fire retardant that was responsible for saving our camp.  We saw a lot of burn damage along Highland Valley Road. Firefighters used the road to stop the fire from spreading farther west. Our crew is being given special access to the road but please remember that the road is closed to allow for restoration work, and to protect the fragile burn area.
Although fire is a natural part of Idaho ecosystems, rejuvenates forested habitats, and creates a rich habitat mosaic for many bird species, we are saddened by this fire for a few reasons:
Climate change has brought hot, dry weather and unnaturally increased the likelihood and frequency of burns throughout the west. Our ecosystems are not able to adapt quickly enough to handle the effects of climate change.
Irresponsible and preventable human actions are often the cause of these fires, rather than natural triggers.
Sagebrush ecosystems evolved with infrequent, low intensity fires. These more frequent (human caused) hotter, and larger (cheatgrass-fueled) fires are not a part of natural, healthy Sagebrush Steppe communities.
Because of Cheatgrass and other human-introduced species, this area will require careful rehabilitation by humans to restore healthy ecosystem function. Invasives prevent the natural regrowth of shrubs like Sagebrush and Bitterbrush that historically returned on their own after burns.
The riparian and steppe habitat lost will have impacts on breeding and migrating birds.
The loss of 4,300 acres of winter feed for ungulate populations will have repercussions for generations.
Moving forward
We worked with the great folks at Boise State University to start up an emergency PonyUp campaign, and were completely overwhelmed by the amazing support from all of you! After meeting our initial goal of $5,000 in the first day, we extended our goal and ended up raising over $19,000!
The funds raised in this campaign will go toward meeting our insurance deductible, recovering lost donations we would have received from visitors if Lucky Peak was open to the public
We are so thankful to all of you for your continuous support, concern for our safety, and immediate offers to help! As we continue to assess the damage we will share new updates with everyone about our needs.
Please consider signing up as a volunteer to help with habitat restoration!