The IBO's popular "Curlews in The Classroom" had an amazing 2017 season! IBO Outreach Coordinator, Heather Hayes, reached more than 5,400 students throughout the Treasure Valley. Through this program, 28 schools and more than 180 classes learned about the biology, life history, and threats facing North America's largest shorebird, the Long-billed Curlew (Numenius americanus).
Our unique Curlews in the Classroom presentation gives students the opportunity to meet "real life" IBO biologists, and brings first-hand knowledge and engaging stories from the field into the classroom. Students also learn about satellite tracking technology used to track curlew migration back to Idaho during March and April. Students can follow the birds on this interactive map throughout the school year.
After the initial program, teachers in the program build upon what the students have learned with some of IBO's activities, games and STEM lesson plans (math, geography, writing, ecology, physics) that incorporate curlews.
Did you know that each Long-billed curlew that receives a satellite transmitter needs a name? Every season we like to have some fun with the students and partners that are a part of the programming and hold a Curlew naming contest! All submissions are posted on the IBO's Facebook page and put to a public vote. Some pretty creative names were submitted this year but a few stood out above the rest.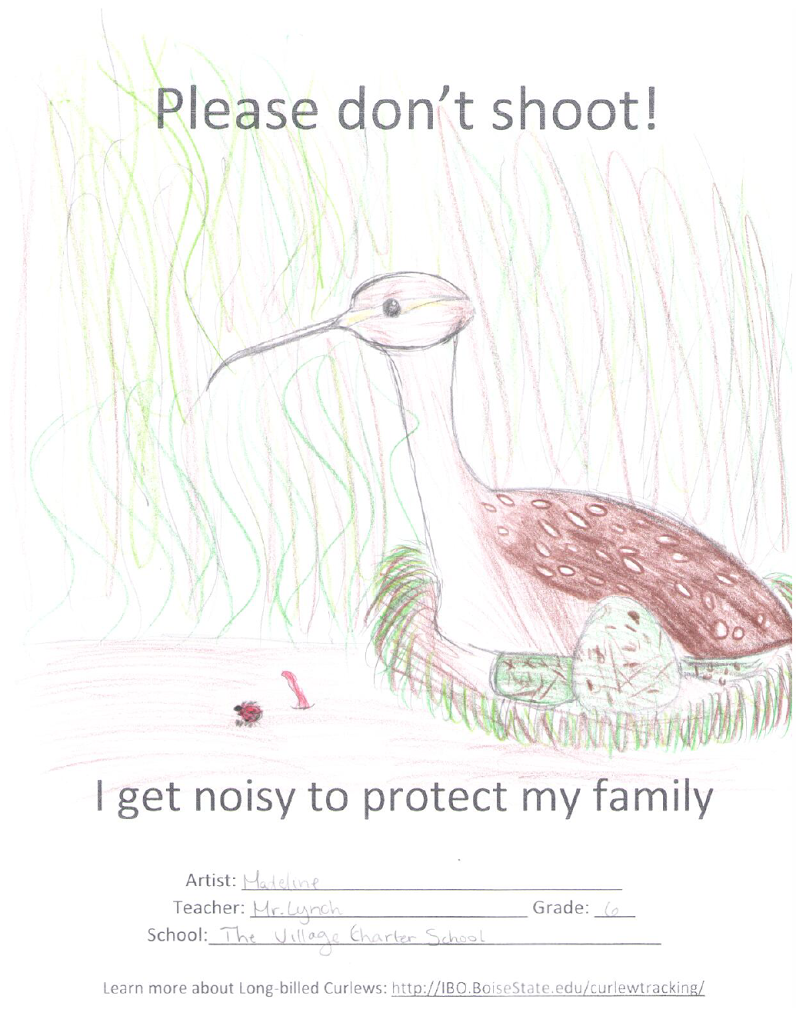 We would like to congratulate Middleton Middle School for naming two of our curlews "Athena" and "Zeus" from the Orchard Combat Training Center. The Boise Watershed Environmental Education Center also joined in on the fun and chose the name "Curly Fry" for one of the curlews who nests on the City of Boise's 20 Mile South Farm. Thank you to all that participated and don't forget to start thinking of creative names for 2018!
Curlews need YOUR help!