IBO continued its work in Mozambique at Gorongosa National Park in 2017. We are now tracking both African White-backed and White-headed Vultures using satellite telemetry. A team visited the park in June and successfully deployed 6 transmitters on White-headed vultures. This species is one of Africa's most endangered vultures.
Gorongosa likely contains the densest concentration of White-headed Vultures anywhere in the world!
Tracking the birds will help us understand vulture movements and identify threats to their populations. These studies by IBO are part of a continent-wide effort to better understand vulture movements and further their conservation.
Western Ecosystems Technologies, Inc. (West) was a key part of our 2017 efforts. They provided the satellite tracking units and helped us attach the transmitters. West employee, Eric Hallingstad, has been instrumental in ensuring continuation of this project.
New partner, André Botha, a South African biologist with The Endangered Wildlife Trust, was also a critical member of the 2017 team. He worked with us to capture raptors and deploy transmitters and wing tags. Andre has been a leader in development of the newly completed African-Eurasian Vulture Multi-species Action Plan. We're excited to see new partnerships like these develop as the Gorongosa project grows!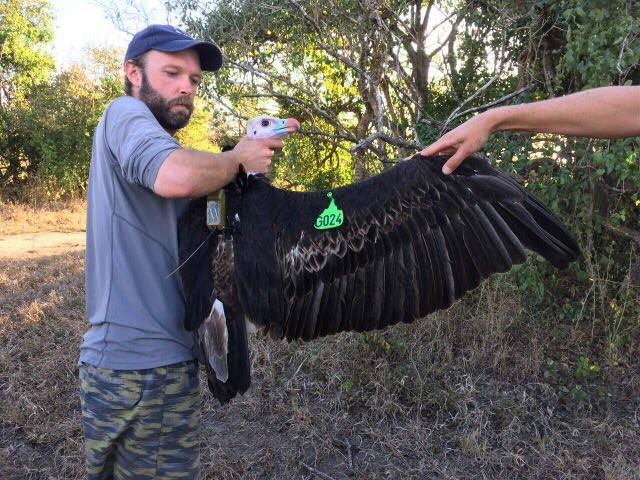 Five-year Lucky Peak veteran, Teague Scott, started his MS in Raptor Biology at Boise State University this summer. His project is focused on the critically endangered vultures of Gorongosa. Teague will analyze satellite tracking data, compare movements of the different species, and describe nesting activity within the park.
For a third year, IBO mentored and hosted a Mozambican intern to our Lucky Peak research site. Amemarlita de Matos has a strong interest in birds and science and was a fantastic Lucky Peak intern this fall. She is assisting IBO in Gorongosa with the vulture research as well as road-based raptor surveys designed by our own Robert Miller. Ame' has also conducted a study of nesting Pink-backed Pelicans at Gorongosa.
We are looking forward to continuing our research at Gorongosa over the next three years, with support from the Greg Carr Foundation, McDanel Land Foundation, Western Ecosystems Technologies, Inc., Boise State, and others. The annual meeting of the Raptor Research Foundation will occur next November in Kruger National Park, South Africa. We plan to have a strong showing at this conference, presenting data on vulture movements and nesting behavior, results from raptor surveys, and more!
Thank You
Thanks to all IBO staff, funders, Gorongosa park staff, and dozens of others who have made this important work possible!