On October 7th, IBO held our first ever benefit and it was a "sweet" success! We partnered with "Waffle Me Up" restaurant of Boise for a beautiful fall morning at our Boise River Banding Station. Over 100 people came down to the river to enjoy the crisp fall air and amazing waffles while learning about the exciting migratory songbird research IBO scientists are conducting in this riparian habitat. We love educating the public about songbird biology, migration and the local habitat these birds rely on for their survival.
Many people are surprised to discover that our banding stations are kept running solely through donations and grants. Since 1993, IBO ornithologists have been dedicating their lives to bird conservation efforts every single day.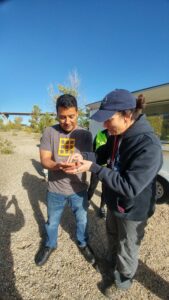 We conduct important migratory research and provide unique hands-on science opportunities through outreach programs, locally and all year long. We rely on donations from people who share our passion for birds and want to be a vital part of the driving force behind preserving their future.
Proceeds from the "Waffles and Warblers" benefit will help the Boise River Research Station remain open so that we can continue our research, outreach and education in 2018.
Thank you to EVERYONE who participated- we appreciate your support!