By IBO Research Director Jay Carlisle (All photos by trip participants!)
How do you pick a favorite bird or even a "top ten" list when you've just seen over 450 bird species in 10.5 days of birding in one of the most diverse regions of the world?  That's the "first world problem" facing me as I attempt to distill an action-packed trip to Ecuador that 12 of us just completed.
I've long known of Ecuador's fame as a birding destination – a relatively small South American country that includes a wide variety of habitats from Pacific & Amazonian lowlands to over 6,000 meters altitude in the Andes – plus relatively easy access to most habitats.  It just took me a long time to finally get there & I'm still amazed at the diversity we just observed!
A great itinerary plus great local guides are key elements of a successful trip and we had both.  I worked with my friend Alvaro (Alvaro's Adventures) and BirdEcuador to develop an itinerary that included a day atop the Andes, 5 days at mid to high elevations on the eastern slope, and 3 full days in the lowlands along the Napo River – tributary to the Amazon.  Then, once we saw the late flight times into Quito, our group decided to arrive a day early and add some time birding at the Yanacocha reserve west of Quito.  This gave us a taste of "west slope" birds in addition to our "east slope" focus.
Marcelo Quipo was our local guide from Quito to Coca (5.5 days) and I was supremely impressed with his knowledge and, especially, his auditory ID skills.  There are LOTS of similar-sounding tanager call notes and antbird songs and he knew ALL of them, and 99% of the time his reply to my "what's that calling?" was instant and correct.
Reserva Yanacocha
eBird Checklist – S43050157
Accounting for a late start & cross-city traffic, we only had a few hours at this great spot but it was more than enough to blow our minds!  Sword-billed Hummingbird 10 feet away – enough said, right?  But there was more – a variety of hummingbirds, including pufflegs and the spectacular Shining Sunbeam, were constant at the feeders. A walk along the mountainside trail brought our first Mountain-tanagers of the trip and a very cooperative Rainbow-bearded Thornbill.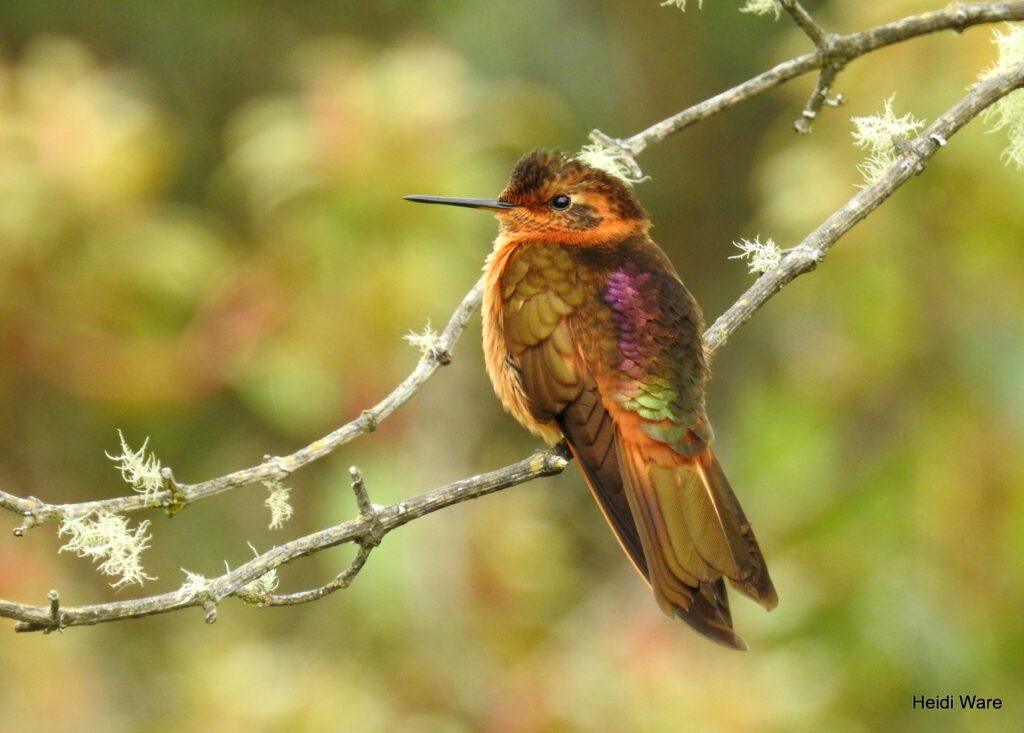 Reserva Ecológica Cayambe-Coca
eBird Checklist – S43076665
Another site we didn't devote a lot of time to, making a number of stops on a ¾ day trip between Quito and Guango, but we had A LOT of great sightings of high Andean species including a foraging Spectacled Bear (!!), Andean Condor, Rufous-bellied Seedsnipe, Ecuadorian Hillstar, Chestnut-winged Cinclodes, and White-chinned Thistletail.
Guango Lodge
eBird Checklist – S43101647
We spent two nights at this neat spot in cloud forest near the Papallacta River.  In addition to spending hours at the very productive hummingbird feeders (Sword-bill again plus coronets, sunangels, woodstars, and the elegant Long-tailed Sylph–eBird Checklist – S43079345), we spent time hiking several trails in search of local specialties and mixed flocks.
We struck out on Mountain-toucans but saw loads of other species, highlighted by Torrent Duck, White-capped Dipper, and four species of Bush-tyrants!  On an afternoon trip upslope to a different portion of Cayambe-Coca (above the Papallacta thermal pools), we also had our first taste of the skulky Antpittas (Tawny isn't too hard to see on the paramo), including a very "branchy" look at a Rufous and a quick glimpse of a Crescent-faced for a few of us.
Guango to San Isidro
We spent almost all day in transit making a number of stops as we dropped in elevation a bit down the eastern slope in the Baeza region.  Among many highlights was a lunchtime stop at a relatively new hummingbird feeder set-up (at an under construction new lodge & trails site) near Arreyan where we got our fill of Booted Rackettails, White-tailed Hillstars, Bronzy Incas, and more.  (eBird Checklist – S43131531) After lunch we had great views of numerous tanagers including the spectacular Flame-faced and Golden Tanagers.  Then we visited an Andean Cock-of-the-Rock lek in light drizzle and were glad they were still active!
Cabañas San Isidro
We arrived in time for a few pre-sunset views of birds like Sickle-winged Guan.  Then a short walk after dinner led us to a pair of the mystery "San Isidro" Owl (appears to be between Black-&-White and Black-banded Owls), with one calling and the other perched over the road.  We had two full days in this area – one on the grounds of the lodge and nearby roads (55 species morning checklist – S43163771!) and the other making stops on Loreto Road to get to some different elevations (eBird Checklist – S43192024).  Our good fortune continued as we enjoyed another 3 antpitta species (!!; White-bellied eating worms then Chestnut-crowned and Slate-crowned along the nearby road) as well as a huge variety of other species, including a distant but exciting Black-billed Mountain-toucan and our only Cerulean Warblers of the trip.
San Isidro to Coca
On our long drive to the lowlands for the last destination of our trip, we made 2 stops as we descended.  First, we made a return visit to Cascada Hollin where our driver, Roger, had seen a Wire-crested Thorntail the day before while our group was down the trail and we'd waited out a pretty serious downpour to no avail (eBird Checklist – S43191533).  Fortunately, on our 2nd try, a male appeared and fed for a few minutes at very close range!
Then we stopped along the carretero viejo at an eBird hotspot called "Vía Papanku (Papango Road)" for a couple hours of lower foothills birding. Here we got into our first real dose of the antbirds, including the snazzy Ornate Antwren, as well as a mixed flock that mostly eluded us/went by too fast!  We also found our only Pearl Kite of the trip along the main highway right in Coca.
Coca to Sacha Lodge
Once we arrived at Coca, Roger and Marcelo left us with the Sacha Lodge staff. Our two lead guides were the very experienced Oscar and Wilmer (nicknamed "Shanshu"): a young up-and-comer with lots of knowledge and enthusiasm.  We then boarded a motorized canoe for a 2-hour trip down the Napo River … fortunately, Oscar and the boat pilot slowed or even backtracked a few times so we could enjoy birds like Swallow-winged Puffbirds, White-banded Swallows, and Orange-backed Troupial.  After landing, we enjoyed Black-fronted Nunbirds at the dock. We added more species our way along a trail, then took a smaller canoe to the lodge.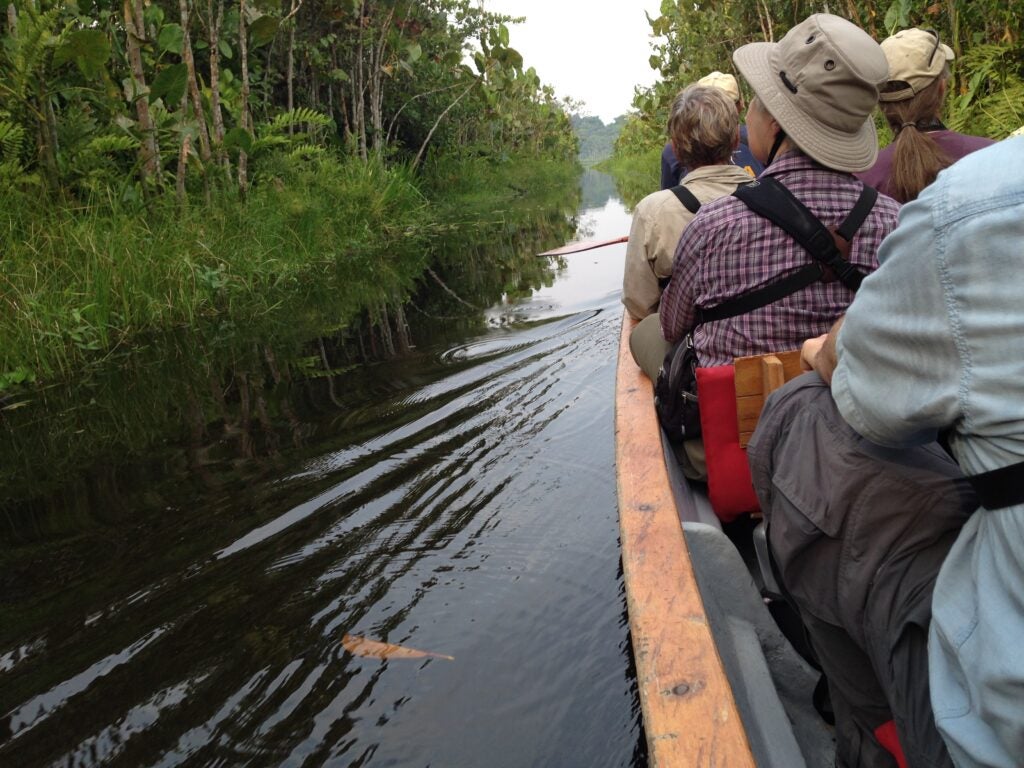 Sacha Lodge and the Napo River
We enjoyed 4 nights and 3 full days in the lowlands. This included 2 spectacular mornings atop canopy towers (check out our checklists from the Canopy Walk and Kapok Tower), a day exploring habitats downriver, and some forest trails. Plus some time on the restaurant deck at the edge of a blackwater lake (Giant Otter, Hoatzin, and more).
Probably too many highlights to name but Crested Owl, Paradise Tanager, White-browed Purpletuft, Point-tailed Palmcreeper, Yellow-browed Tody-flycatcher, Plum-throated and Spangled Contingas, Rusty-belted Tapaculo, Chestnut-belted Gnateater, and Black-spotted Bare-eye are among the fancier birds we saw.
Back to Quito
On our last day we hoofed it upriver to Coca and took a short flight back to Quito.  We even had time for an impromptu mid-afternoon visit to the Puembo Birding Garden where we added new species such as Western Emerald, Scrub Tanager, and Golden Grosbeak (eBird Checklist – S43385132).
Wow.  So we birded on part or all of 11 days in Ecuador and we recorded over 450 bird species! Plus some other very cool animals like Spectacled Bear, Giant Otter, Anaconda, and a courting pair of Yellow-footed Ground Turtles (well, at least he was in the mood ☺ ).
Thus, the most diverse birding trip I've ever been on – and the best I've ever done for hummingbirds (42 species!), tanagers (41), and Antpittas (6).  Crazy good – and now I want to return to explore other mega-diverse regions of Ecuador such as the northwest and the far south …
---
I'm a big fan of asking for favorites (i.e., "best bird of the day?") so, in spite of the difficulty of choosing, here goes my top 10 birds for the trip:
Sword-billed Hummingbird
Crested Owl
Wire-crested Thorntail
White-bellied Antpitta
Booted Rackettail
Scarlet-bellied Mountain-tanager
Rufous-bellied Seedsnipe
Crescent-faced Antpitta
Rusty-belted Tapaculo
Point-tailed Palmcreeper
Honorable mention goes to Spectacled Bear (definitely one of the top 10 animals of the trip!), Black-spotted Bare-eye, and Paradise Tanager.
---
The biodiversity on this trip didn't just include vertebrates either! Our group of adventurers also enjoyed tons of plants and arthropods along the way: