Join us for the Summer 2023 Low Brass Camp!
June 5-9, 2023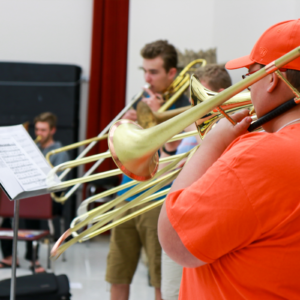 The Boise State Low Brass Camp provides an environment for trombone, euphonium, and tuba students to explore their instrument and develop the proper skills needed to excel. The 2023 camp is open to students entering grades 6-12, and graduating seniors. Students have the opportunity to break into focus groups based on their ability level. Topics addressed include chamber music, proper embouchure, breathing, tone production, musicality, ensemble playing, proper warm up techniques, instrument care, jazz improvisation, music theory, and performance art.
COVID Precautions
The Low Brass Camp will be in person. COVID safety protocols will reflect campus policy at the time of the camp. For current campus protocols, please see the Boise State University COVID-19 Guidelines.
As of January 1, 2023, "Facial coverings will be optional in all university owned or controlled spaces, including instructional spaces (classrooms, studios, teaching labs and other spaces where instruction takes place) and research labs." These guidelines are subject to certain exceptions listed on the website linked above.
Director
Dr. Sarah Paradis
Associate Professor: Trombone, Euphonium
Boise State University
sarahparadis@boisestate.edu
(208) 426-1685
More Details about Low Brass Camp