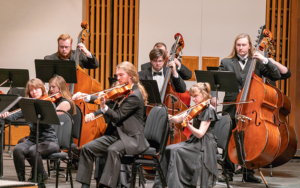 University Symphony Orchestra
Boise State University Symphony Orchestra's season consists of four major orchestral concerts as well as the Family Holiday Concert, Opera/Musical Productions, and the Concerto-Aria Concert.
Director: Prof. Craig Purdy
Ensemble Rehearsal Schedule
MUS-ENS 150/350/550
Instrumental Rehearsal Hall B125
Fall

: M/W 2:30-4:20 p.m. and Friday 2:30-3:20 p.m.

Spring: T/TH 1:30-3:45 p.m.
---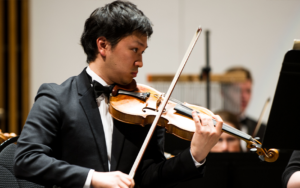 Chamber Music
Students can perform in small chamber groups with a recital performance once a semester and community engagement performances as part of Boise State's Service Learning initiative. In addition, the Boise Chamber Music Society sponsors a string quartet competition each spring and hosts master classes with groups such as the Ying Quartet and the Peabody Trio.
---
Graduate String Quartet
The Graduate String Quartet Scholarship program is intended for students committed to earning the Master of Music degree, a two-year course of study. Graduate String Quartet Scholars are expected to be available for the two consecutive academic years of this scholarship.
Requirements:
● Enroll and perform in the Boise State University Symphony Orchestra each semester.
● Enroll and perform in the Boise State University Chamber Music Program as "The Graduate Scholarship String Quartet" each semester, performing one string quartet recital each semester.
Admitted students are highly encouraged to perform an additional audition for the Boise Philharmonic audition committee to obtain an official substitute position or an official section chair, depending upon openings.