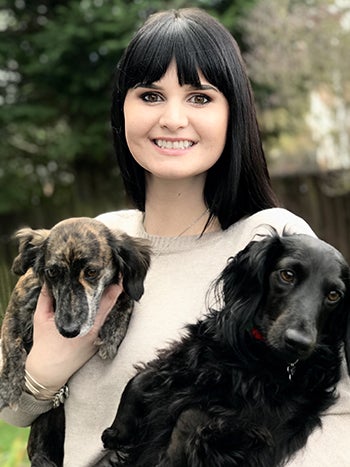 Allison graduated with degrees in Political Science and Chemistry from Northwest Nazarene University in May 2016. During her undergraduate career, she worked with Dr. Jerry Harris on researching the synthesis and characterization of ZnO nanoparticles. She also worked on developing nanostructured lithography techniques using the self-assembly of diblock copolymers, specifically for photovoltaic and semiconductor applications, which was sponsored by the Idaho Space Grant Consortium.
After graduation, Allison completed an internship at NASA Glenn Research Center in Cleveland, Ohio, where she successfully synthesized and characterized GaAs nanowires using nanoscale, polymer-patterned templates. Allison then began work at the Quest Diagnostics Laboratory at the Nichol's Institute in Valencia, California, which provides specialized diagnostic testing for private clients, doctor's offices, and hospitals.
Allison joined the Nanoscale Materials and Device Group in the fall of 2017 working with the Excitonics Group as a Ph.D. student. Her goal is to complete the degree by Spring 2022. In her free time, Allison loves spending time with her two dachshunds and reading.
Instrumentation and Techniques
Atomic Force Microscopy

Veeco D3100 Scanning Probe Microscope
Veeco Multimode 8 Scanning Probe Microscope

NMR Spectroscopy
High Performance Liquid Chromatography
Absorption/Emission Spectroscopy
X-Ray Diffraction
Scanning Electron Microscopy
Publications and Presentations
Peer Reviewed Journal Publications
Cowen, Jonathan & E. Harris, Ashley & Pena, Cecelia & C. Bryant, Stephen & Christy, Allison & Harris, Jerry. (2016). Crystallite Size Evaluation of ZnO Nanoparticles via Transmission Electron Microscopy and X-ray Powder Diffraction. Microscopy and Microanalysis. 22. 1610-1611. 10.1017/S1431927616008898.
Conference Presentations and Posters
Nanostructured Polymer Lithography for Photovoltaic Applications, Poster Presentation American Chemical Society National Meeting (San Diego, California; March 2016)
Nanostructured Polymer Lithography for Photovoltaic Applications, Oral Presentation Murdock College Science Research Conference (Vancouver, Washington; November 2015)
ZnO Nanoparticle Morphology on Photodegradation of Malachite Green Oxalate, Poster Presentation INBRE IDeA (Coeur d'Alene, Idaho; October 2015) October 2015
Honors and Awards
Best Poster Award, IEEE Regional Conference, May 2015
President and Founder of the first Northwest Nazarene University American Chemical Society Chapter, 2014-2016
Dean's List President Scholar and Recipient of Northwest Nazarene University's President's Scholarship, 2012-2016