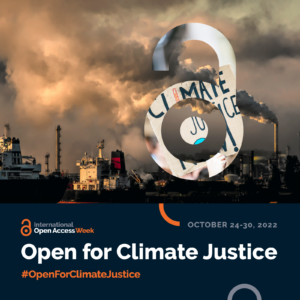 Albertsons Library is leaning into the 2022 theme of International Open Access Week: Open for Climate Justice. Open Access Week highlights the importance of the open sharing of knowledge for all. Free access to information is important for a wide range of topics, but especially relevant to climate justice. This year's Open Access Week highlights the inequitable distribution of facts for and about climate crisis. Open access to knowledge can "create pathways to more equitable knowledge sharing and serve as a means to address the inequities that shape the impacts of climate change and our response to them," the event's website says.  
Open for Climate Justice
This year's theme provides the library a natural collaboration with Boise State Campus Sustainability. Their mission is to build empowered, equitable, resilient communities. They do this by facilitating education, diverse collaboration and civic engagement. The result creates an ever-growing healthy and sustainable university. Get involved through events, trainings or as a volunteer. Campus Sustainability engages Boise State students, staff and community to create change. Make a difference on campus and with partners in the Treasure Valley through volunteer opportunities. Collaborate with local movers-and-shakers at events and workshops.
Trash Fashion Exhibit On Display through Nov. 18 
To coincide with this year's Open Access Week theme, Albertsons Library has partnered with local artist Shaun Muscolo, who creates wearable clothing from recycled materials destined for the landfill, commenting on the excess our society creates. The exhibit will be open to the public from Oct. 22 through Nov. 18 during the library's business hours. Photos and other ephemera from the exhibit will be uploaded to ScholarWorks to continue the spread of information openly and widely. This repository is a collection of services designed to capture and showcase scholarly output by the Boise State community.
MakerLab Workshop Nov. 11
Muscolo will also host a free workshop in the library's MakerLab on Friday, Nov. 11 from noon – 2 p. m. Boise State students and employees can create their own bags from recycled materials with Muscolo's instruction. Advance registration is required.
The Importance Of Accessible Information
Albertsons Library continues to strive to improve educational access and student success. The open sharing of knowledge ensures that information is widely accessible no matter who or where a customer is. This is one of the tenets of Boise State's Blueprint for Success. Open access fosters a thriving, knowledgeable and proactive community.